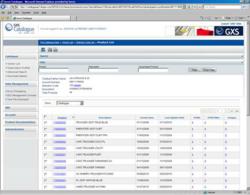 With the added features, we will increase speed and reduce costs with the most efficient and effective service available. GXS has the skills and experience to execute our e-commerce initiatives and deliver the ROI we need.
Gaithersburg, MD (PRWEB) April 12, 2012
GXS, a leading provider of B2B integration services, today announced the next generation of GXS Catalogue, the retail industry's leading product data synchronization application. The new version provides even more flexibility to allow suppliers to publish the latest product, price and image information to retail merchandising systems and online storefronts. GXS Catalogue now also offers expanded APIs that enable other applications to populate purchase orders with accurate and complete product data.
GXS Catalogue now includes:
•Extended Attribute Support—With 22 new attributes, GXS Catalogue now features more than 600 attributes to empower users with more information to classify and describe products and assist with the procure-to-pay process.
•Guaranteed Image Consistency— GXS Catalogue includes VICS standards image support, which has become critically important as more catalogue data is being used to populate consumer websites, advertisements and other visual marketing tools.
•Expanded APIs —APIs enable external applications to query the catalogue for a list of available items and their attributes. In addition to long-supported back office enterprise systems like a merchant's item master or purchase order management tool, product information can now be displayed in enablement solutions, such as GXS Intelligent Web Forms, to ensure accurate and complete product data is included in purchase orders.
"GXS Catalogue will enable us to exchange image information in a consistent fashion with our trading community," said Coby Sparks, president of operations at Remac, LLP. "With the added features, we will increase speed and reduce costs with the most efficient and effective service available. GXS has the skills and experience to execute our e-commerce initiatives and deliver the ROI we need."
"Success in the retail industry relies on accurate, up-to-date product information. Merchandise selection, planning, purchasing, inventory management and logistics all depend on accurate initial item setup, as well as ongoing updates to item data," said Michelle Covey, global product manager, GXS Catalogue and Active Applications. "With GXS Catalogue, we provide not only data synchronization but a solid foundation for the entire order to cash lifecycle, enabling complete supply chain visibility for our customers."
Popular in the general merchandise, apparel and footwear sector, GXS Catalogue is a complete solution for item setup and synchronization. The application supports the latest GS1 System global standards for trade item identification, as well as VICS guidelines for product data exchange, ensuring companies are supported by standards-based technology. With more than 145 million unique items from more than 5,500 vendors, manufacturers, suppliers and their retail customers, the product includes the world's largest retail B2B catalogue.
About GXS:
GXS is a leading B2B integration services provider and operates the world's largest integration cloud, GXS Trading Grid®. Our software and services help more than 400,000 businesses, including 72 percent of the Fortune 500 and 23 of the top 25 supply chains, extend their partner networks, automate receiving processes, manage electronic payments, and improve supply chain visibility. GXS Managed Services, our unique approach to improving B2B integration operations, combines GXS Trading Grid® with our process orchestration services and global team to manage a company's multi-enterprise processes. Based in Gaithersburg, Maryland, GXS has direct operations in 20 countries, employing more than 2,400 professionals. To learn more, see http://www.gxs.com, read our blog at http://www.gxsblogs.com, follow us on Twitter at http://twitter.com/gxs and join us on LinkedIn at http://www.linkedin.com/company/gxs. You can also access our public filings with the Securities and Exchange Commission at http://www.sec.gov/edgar.shtml.
FORWARD-LOOKING STATEMENTS
This press release may contain "forward-looking statements." All statements, other than statements of historical facts that address activities, events or developments that the company expects, believes or anticipates will or may occur in the future are forward-looking statements. These forward-looking statements are affected by risks, uncertainties and assumptions, including but not limited to those set forth in the company's public filings with the Securities and Exchange Commission, including its Annual Report on Form 10-K and its Quarterly Reports on Form 10-Q. Accordingly, actual results or outcomes may differ materially from those expressed in the forward-looking statements. You should not place undue reliance on these statements and the company undertakes no obligation to update or revise any forward-looking statements to reflect events or circumstances that may arise.
All products and services mentioned are trademarks of their respective companies.