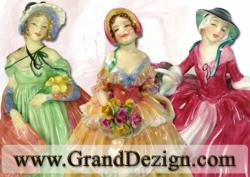 Our great access to numerous sources around the world allows us to acquire greatly sought-after pieces and make them available to our customers at greatly discounted prices.
Los Angeles, CA (PRWEB) April 12, 2012
GrandDezign.com is proud to announce its upgraded website featuring a very large selection of rare and retired Royal Doulton figurines. The upgraded website provides collectors and gift shoppers a much easier online shopping experience with multiple large photographs and background information to fully describe each figurine offered. Shoppers who prefer to process their purchase by phone through the website's toll-free number find the experience very pleasant and quick.
Perfect for Mother's Day gift giving, collectors and shoppers can find Royal Doulton figurines for every taste and budget. Grand Dezign offers an extensive selection of Character Figures, including Historical Figures, Sea Characters, Balloon Sellers, Street Vendors, Middle-Eastern Characters and the adorable Child Studies which includes the Kate Greenaway Series.
Grand Dezign also offers a very large selection of Pretty Ladies figurines as well as figurines in series such as Figures of the Month, Figures of the Year, the Seasons, Vanity Fair Ladies, Ladies of the British Isles, Limited Edition Walt Disney Collection, Middle Earth (Lord of the Rings) Characters, Reflections and Williamsburg, to name a few.
Those who collect the creations of the celebrated Royal Doulton designers such as Leslie Harradine and Peggy Davies, can find a very large selection of each designer's creations at GrandDezign.com.
Many of the featured Royal Doulton figurines at GrandDezign.com are considered antiques and date back to the early 1900s. Royal Doulton figurines have had a great following during the 20th century and the trend is continuing strongly in the 21st century. The beauty and elegance of these magnificent art pieces are appreciated by young and old alike.
When purchasing collectibles, it is of utmost importance to find a trusted source who guarantees quality and authenticity as well as providing excellent expert customer service. For those who seek the highest quality, great selection and lowest prices on the market, GrandDezign.com has been the #1 choice Royal Doulton authorized dealer for over a decade.
For collectors who wish to know the most current value of their figurines, Grand Dezign offers an Online Appraisal Service for the Royal Doulton figurines. For $7.99 per figurine, collectors and those who wish to valuate their figurines receive the most current value of the figurine as well as other pertinent information.
About Grand Dezign: For over a decade, Grand Dezign has provided collectors around the world with the finest in Royal Doulton figurines. We specialize in retired and hard-to-find pieces as well as offering prestige releases from the Royal Doulton studios in England. Our website http://www.GrandDezign.com offers an incredible selection of Royal Doulton figurines at the LOWEST PRICES!