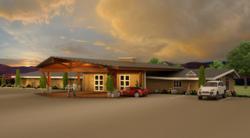 Golden, CO (PRWEB) April 20, 2012
Applewood Golf Course is delighted to announce the appointment of Robert Scheidt as the new Executive Chef & Food and Beverage Director for the 5680 Grille and Pub and their brand new event venue The Vista is due to open in May 2012.
Chef Scheidt is a European trained chef, having graduated from Cypress College in California in accordance with his apprenticeship which was completed at the Anaheim Hilton and Towers in 1986. After completing his training Scheidt has held positions as: Sous Chef at the prestigious Monarch Bay Club in Monarch Beach California, Executive Sous Chef at Palm Valley Country Club in Palm Desert, Executive Chef at Monterey Country Club, Dove Canyon Country Club, Montreaux Golf and Country Club near Lake Tahoe, and Cherry Hills Village's Glenmoor Country Club. From there Scheidt went on to Pinehurst Country Club, Denver Colorado followed by The Golf Club at Ravenna, Littleton Colorado.
Gaining a reputation as an innovative chef who demands the very best combined with his intensive European style training and nearly a decade of working as a top chef in California and Colorado, Scheidt is uniquely able to create sophisticated and modern dishes. Scheidt is a fanatic for fresh ingredients, and will draw on Colorado's fruits, vegetables, and meats to create one-of-a-kind meals for The Vista at Applewood Golf Course.
The Vista at Applewood golf course is Golden Colorado's newest event venue, located at the foothills of the Rocky Mountains and just 15 minutes from Downtown Denver. Applewood Golf Course features 18 holes of golf, practice facility, club lounge, pro shop, the 5680 Grille and Pub and their newest addition of The Vista at Applewood Golf Course event venue. The Vista at Applewood Golf Course is poised to be a favorite location for weddings, meetings and social events and promises to offer an unforgettable experience.
The Vista is currently accepting reservations for dates for 2012. Be the first to host your event at this new and exciting venue.
For more information on The Vista at Applewood visit us at http://www.vistaapplewood.com.
Media Contact:
Tara Seech, CMP
Director of Catering
The Vista at Applewood
(303) 279-3003, x 27
tseech(at)applewoodgc(dot)com