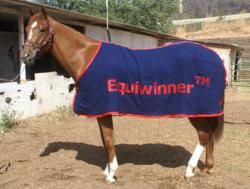 ". . . electrolyte activity has been linked to equine anhidrosis"
Mesa, AZ (PRWEB) April 12, 2012
A horse showing any of the following signs could be at greater risk of becoming a non-sweater this summer and steps should be taken to improve the horse's health now.

Dull or dry coat.
Itchy coat and/or too sensitive to touch. (Most horses should enjoy being groomed. The "thin skinned" horse should be evaluated for other symptoms.)
Inefficient sweating. (After a good workout, a horse should be damp from sweat over the whole length of the body including the lower leg.)
Poor drinker. (Horses should naturally crave water, without needing salt or water additives to encourage drinking.)
Dehydrated. (The skin pinch test is the easiest way to check hydration. As the horse becomes dehydrated the skin looses elasticity.)
Mucous membrane surface of the mouth is tacky or dry. (Tacky or dry can indicate dehydration. The gums should be a healthy pink color and slippery to the touch.)
Slow recovery rate from work/exercise, lethargy, labored breathing.
Overweight. (Can you see or feel the ribs? Excess weight is linked to many health issues.)
These risk factors are not specific to anhidrosis but are indicators of less than ideal overall health.
There is a simple way to eliminate most of the risk factors above to ensure a horse is as healthy as possible and sweats efficiently this summer. That solution is a patented, non-invasive dermal patch that serves as a natural electrolyte balancing system, ensuring proper electrolyte activity which has been linked to equine anhidrosis1. Developed by Therapina Ltd in the United Kingdom, the SmartCell SignalTM system restores normal cell metabolism by stimulating communication directly between cells in the horse's body. The patch is marketed under the trade name, "Equiwinner".
These electrolyte-balancing patches are safe, effective and easy to use. The simple, 10-day treatment costs less than continually trying to treat or manage the symptoms of anhidrosis. One single treatment can be effective for up to one full year, when used as directed. Because the patches contain only naturally balanced electrolytes, no chemicals or drugs are released into the horse's body so the animal will never test positive in any competitive sport.
Since electrolytes are involved in every physiological process in the horse's body, restoring optimal electrolyte balance with Equiwinner clears a number of conditions, including bleeding EIPH , tying-up, non-sweating, headshaking and keeps horses hydrated. Improving the horse's overall health improves its performance, too.
Equiwinner patches are distributed in the United States and Canada by Signal-Health LLC and are available from the company's website at http://www.signal-health.com or by phoning toll-free:
1-877-378-4946.
1. A preliminary study of the short circuit current (Isc) responses of sweat gland cells from normal and anhidrotic horses to purinergic and adrenergic agonists. Wilson, Darius C.S., et al, Veterinary Dermatology, June 2007