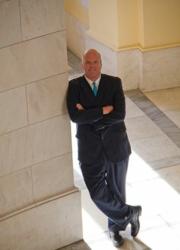 "Quite honestly, one of the most powerful cancer articles I've ever read, it delves deep into the complexity of our 'race for a cure' asking some very brave questions." Robyn O'Brien
Rye New Hampshire (PRWEB) April 12, 2012
The most recent post on the Less Cancer Blog entitled Walking the Walk- Talking the Talk Less Cancer, Founder Bill Couzens writes "When we started our organization in 2004, we knew because of simple Internet searches that the phrase "less cancer" was rarely, if ever, used. The two words - "less" and "cancer" - almost never appeared in the same paragraph, much less side-by-side.
The idea of prevention was relatively new, and the focus had always been on fighting cancer, on beating it. Never on Less Cancer.
Couzens wrote that he recently, stumbled across a news item about a bald Barbie doll, made by Mattel and inspired by a grassroots movement and online petition. Although Couzens is grateful to Mattel for the "bald" Barbie, he notes the doll will comfort children losing their hair.
The Less Cancer founder writes that he does not want to take away from the hard work and intentions of the people putting this doll out, but the doll strikes me as an unbearably sad monument to the increasing incidences of cancer in children.
We set the goal to raise awareness for reducing incidences of cancer in 2004, and the doll shows how far we have yet to travel.
Couzens' blog made the rounds in the social networks being posted on Facebook and Twitter alike. One such post came from Robyn O'Brien author of the Unhealthy Truth and Founder Of Allergy Kids wrote this on her Facebook Status "Quite honestly, one of the most powerful cancer articles I've ever read, it delves deep into the complexity of our 'race for a cure' asking some very brave questions."
Bill Couzens, who originally hails from Detroit, Michigan is a graduate of Wayne State University and the Founder and President of the nonprofit Next Generation Choices Foundation and the widely known Less Cancer Campaign.
The Campaign has worked to raise awareness for the reduction of cancer risks. Founded in 2004, Next Generation Choices Foundation partners with communities to create and dispense educational tools that focus on environmental health advocacy and lifestyle choices.
Couzens under Less Cancer and its board of directors was the founder of National Cancer Prevention Day, February 4th, which serves to remind people that when looking at cancer they need to look at prevention, and reducing risks for human health and the environment.
In February of this year a resolution had been entered in the House of Representatives for National Cancer Prevention Day recognizing that when we work to prevent cancer risks, it impacts human health, the environment, and the economy. The resolution was introduced by Congressman Steve Israel, Co-Chairman of the House Cancer Caucus and had twenty -five co-sponsors.
The public charity was formed in response to the escalating cases of cancer and the lack of education and knowledge about potential causes. Couzens has been recognized by Congress in addition to the Commonwealth of Virginia for his work in initiating and creating best practices to reduce pesticide drift in health effected communities such as schools. He has been published in a number of periodicals and has been a speaker on the topic of reducing harmful environmental exposures linked to cancer. Couzens regularly speaks on human health and environment issues relative to reducing risk.
Please find the newest Less Cancer post here
The Less Cancer Blog link is http://lesscancer.blogspot.com/2012/04/walking-walk.html