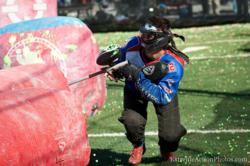 Lynchburg, VA (PRWEB) April 13, 2012
The Liberty University Paintball team is heading to the National Collegiate Paintball Association (NCPA) championships this week ranked No. 1. Liberty has finished fourth at the national championships the past two years, but is eager for victory after completing their season 8-0.
"This is our year, this is our chance," head coach Todd Hoglund said of his, and the players' attitude going into nationals.
Liberty is the only college in the NCPA to have its own on-campus paintball fields. Hoglund shared that the fields have been beneficial in creating a "home field advantage" this season and providing the opportunity to host events at the university.
The team departs for Lakeland, Fla. early on Thursday morning and will play a few preliminary matches on Friday before starting tournament play on Saturday.
"I want my team to play the hard-nosed paintball that we know how to play," Hoglund said when asked what he is looking for out of the team.
All of the matches will be available via live-streaming video on the NCPA website, and the championship will be aired on Fox College Sports at 2 p.m. on Sunday.
Paintball is one of 29 sports offered as part of Liberty's Club Sports program.
Liberty University, located in Lynchburg, Va., is the world's largest Christian university. More than 12,000 students attend classes on its 6,500-acre residential campus and more than 70,000 study in its thriving online education program.