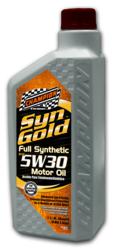 Champion SynGold™ Motor Oil Supports Earth Day 2012
Clinton, MO (PRWEB) April 12, 2012
The name and concept of Earth Day was allegedly pioneered in San Francisco, the City of Saint Francis, patron saint of ecology, in 1970. Earth Day is now coordinated globally and is celebrated in more than 175 countries every year and also led to the creation of the U.S. Environmental Protection Agency. And in 2009, the United Nations designated April 22 as International Mother Earth Day.
Champion's focus on Earth Day brings attention to full synthetic oils sold in the U.S. that are capable of extended automotive drain intervals. Synthetic oils raise the quality standard and extend the normally 3,000-mile drain interval without compromising engine durability or sacrificing performance. Europe is already at a minimum of 10,000-mile drain intervals and has been using synthetics for decades. The use of synthetic oil brings many benefits to the environment and also directly to the consumer.
Champion SynGold™ full synthetic motor oils are uniquely designed to help provide outstanding levels of fuel economy performance, cleaning power and engine protection, even during extended oil change intervals. SynGold is proven to significantly reduce wear and viscosity breakdown because of its advancements in oil technology.
SynGold's premium mixture of synthetic base fluids and performance additives outperform all previous engine oils for protection and durability from wear and viscosity breakdown. SynGold's wide range of viscosity grades fit all types of modern vehicles, including high-performance turbo-charged, supercharged gasoline multi-valve fuel injected engines found in passenger cars, SUVs, light vans and trucks.
About the company: Champion Brands, LLC, is a globally recognized industry leader in specialty lubricants for over 55 years. Champion also produces and blends over 300 products including fuel, oil, engine additives, and lubricants for the automotive, racing, heavy truck, agricultural, industrial, and specialty markets. For more information about SynGold™ Motor Oils contact your nearest Champion distributor, or call Champion at 800-821-5693 or 660-885-8151. Champion Brands, LLC; 1001 Golden Drive, Clinton, MO, or go to http://www.ChampionsUseChampion.com