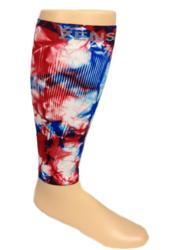 As a company, we especially look forward to this marathon and are excited to see so many runners from across the globe wearing Zensah®. It is truly a testament to the strength and growth of the Zensah® brand
Miami, FL (PRWEB) April 12, 2012
Zensah®, the leader in compression apparel and the creator of the world's number one selling compression leg sleeves, will present their new USA tie dye compression leg sleeves and arm sleeves at the 2012 Boston Marathon in honor of Patriots' Day. Zensah® will also be selling their new minimalist running socks, sports bra, and compression socks. Zensah® will be located at booth #443 during the three day Sports and Fitness Expo which takes place on April 13-15 at the Boston Seaport World Trade Center.
The Boston Marathon is the world's oldest annual marathon and attracts runners from around the world. Conditioning for a marathon is tough, but wearing compression gear for training, performance, and recovery helps each athlete reach their personal bests. Compression helps runners to stabilize muscles, prevent shin splints and increase circulation for faster recovery. By preventing injury and decreasing recovery time, runners are able to train harder while preparing for the marathon, improving their performance and ultimately leading to faster times.
Zensah® offers compression apparel and accessories designed specifically for athletes. While other brands have taken medical compression stockings and repackaged them to athletes, Zensah has engineered innovative athletic compression technology. By incorporating pin-point compression, anti-chafe seamless construction, and the most comfortable moisture wicking fabric, Zensah® is an integral part of runners' training and recovery. Zensah® is known worldwide for its number one selling compression leg sleeves, in addition to their compression socks, sports bras, and compression shorts, all of which help improve athletic performance.
"We are thrilled to be back in Boston for another great year of running" states Ryan Oliver, Zensah's Director of Marketing. "The Boston Marathon is one of the most prestigious marathons in the world. As a company, we especially look forward to this marathon and are excited to see so many runners from across the globe wearing Zensah®. It is truly a testament to the strength and growth of the Zensah® brand."
About Zensah®: Zensah®, based in Miami, is the originator of seamless compression technology used by runners, triathletes, cyclists, and other outdoor athletes. http://www.zensah.com
About the 2012 Boston Marathon: The Boston Marathon draws world-class athletes from around the world. The Sports & Fitness Expo will take place Friday, April 13 through Saturday, April 15, 2012. For more information please visit http://www.baa.org/races/boston-marathon.aspx.