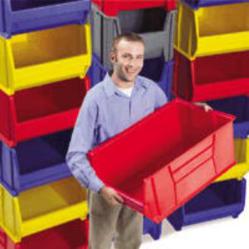 Akro Bins Are A Great Products , and A Plus Warehouse is Honored To Carry The Entire Akro Line
Boston,MA (PRWEB) April 12, 2012
The Akro Bins Bonanza is on at A Plus Warehouse. Arko Mils of Akron Ohio manufactures some of the best plastic bins in the business, and A Plus Warehouse is fortunate to distribute the entire Akro Bins product line. A Plus Warehouse has had the Akro Bins product franchise since early 1996, and A Plus Warehouse intends to continue providing these excellent products to their valued customers nationwide.
For the month of May, 2012, any customer mentioning the Akro Bins bonanza will be given a five percent discount from the normal price of any Akro Mils item. Even though the promotion covers bins mostly, Akro Mils also produces great work benches, cabinets, and carts as well. All of these items will be covered by the promotion.
Akro Mils has some interesting new items that deserve some attention.
With so many companies going green now, recycled bins are getting much more popular. Unfortunately, most plastic bin manufacturers provide black recycled bins. The Akro Earth Saver Bins are available as storage bins and shelf bins in colors! Hunter Green, Sandstone, and Terra Cotta are all available from Akro in a recycled bin! According to Ed Stairman, " Akro Bins are an excellent product and A Plus Warehouse is proud to have the entire line" The earth saver line is only the start of the innovative products Akro offers.
Shelf bins are normally 4 inches high, but some customers need more storage volume per bin. Enter the shelf max Akro Bin. Shelf Max bins are 50 percent taller, measuring 6 inches high. This is a small change that adds valuable density to any shelving unit. Supersized Akro Bins are available for bulky items. Finally, system bins are 36 inches wide, taking up a complete shelf. The interesting thing is that the bin is pre divided with integrated dividers.
As mentioned, Akro Mils also manufactures carts, work benches and bin units. When a customer needs to store and handle stock , Akro is a great choice. Akro Bins are designed with a complete operation in mind. Small items are stored in plastic bins, which are transported by cart or hand truck to a work area then a storage cabinet. Akro Mils provides items in each of these steps.
Whatever you plastic bins needs, A Plus Warehouse is always ready to help.
A few words on A Plus Warehouse:
Operating http://www.apluswhs.com – A Plus Warehouse sells Akro Bins, Plastic Bins and work benches to discerning customers coast to coast. Call A Plus Warehouse at 800-209-8798 to request a quotation or place an order.