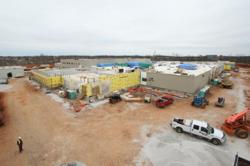 Modular construction has come a long way.
Joplin, MO (PRWEB) April 12, 2012
The team behind Walden Structures and Aspen Street Architects, along with an army of dedicated workers, has done the impossible in Joplin, MO where Mercy Hospital Joplin's new 150,000 square foot, state-of-the-art facility is set to open on April 15, only 8 ½ months since its original hospital was destroyed by a deadly tornado last May.
When Aspen Street Architects and Walden Structures were commissioned by Mercy to provide a completely code compliant interim hospital within a year, they knew it could only be done using modular design and construction—an innovative building solution both companies have long been advocates of using. Once Mercy officials saw other hospitals that had incorporated modular construction into their facilities, they knew it was the right solution to get their employees back in Joplin and offering patients full-scale services again.
When employees and patients walk into their new facility next week, the myths and misconceptions about modular construction will finally be put to rest. "People think mobile homes," said Charlie Walden, founder of Walden Structures. "But modular construction has come a long way."
"We've worked for more than a decade to develop a better alternative to traditional, stick-built construction," said Dave Hitchcock, Founder of Aspen Street Architects. "Mercy Hospital Joplin is the end result and when people see this facility there will be a wider understanding and acceptance of modular construction's place in healthcare."
The impressive hospital looks no different than a traditionally-built hospital. The only difference is that each of the 224 steel and concrete units that make up the modular hospital were engineered and manufactured off-site in a factory located in Southern California while simultaneous site work, like preparing the site and laying the foundation, was completed in Joplin. The units were then shipped across the country on large semi-trucks and train cars and assembled like a giant jigsaw puzzle when they arrived.
According to John Farnen, Mercy's executive director of planning, design and construction, the steel construction modular hospital is 30 percent stronger than Mercy's previous facility in Joplin and has glass ratings that can withstand winds up to 200 mph, which exceeds building code requirements.
The new facility includes a full-scale emergency department, four operating rooms, a two-story inpatient wing that can accommodate more than 100 patients, an LDPR for delivering babies, full lab, pharmacy, and Radiology department with X-Ray, CT, MR, Ultra Sound, EP/PV, Pet, Litho, NucMed, as well as all the amenities you would find in a typical hospital such as a cafeteria, gift shop, pharmacy and chapel.
Aspen Street Architects, Inc. is an Architectural/Engineering firm that has been providing professional design services to the education and the health care industries since 1982. Located in Angels Camp, CA, the firm has been working to bring affordable, component building technology to the forefront of healthcare design.
Walden Structures, located in Mentone, CA, has been providing quality modular buildings for over three decades, proving along the way that modular construction is far more than trailers. With over 260,000 sq ft of production space, Walden manufactures multi-story buildings, facilities with concrete floors, steel beam construction, clear span trusses, and green building products far faster than conventional construction and with minimal site interruption.