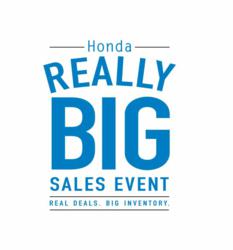 Really Big Sales Event
(PRWEB) April 12, 2012
A recent spike in Honda automotive sales can be accredited to a specific sector: Parents. A vehicle's safety record weighs heavily among all buyers when considering a new vehicle purchase, and Honda dealers have noted an increase in sales from parents.
"School will be getting out in a couple of months and I think parents whose sons or daughters will be going off to college next year are taking advantage of Honda's safety record and the low prices we can offer right now during The Really Big Sales Event," said Marty Mullen, GM, Honda of Mentor. "Of all vehicle manufacturers, Honda tops the list for safety, and safety is a parent's biggest concern."
Seven of Honda's 2012 models received accolades from the The Insurance Institute for Highway Safety (IIHS.) The 2012 Civic Sedan, Accord Sedan, CR-V, Fit, Odyssey, Pilot and Ridgeline all received the 2012 Top Safety Pick.
"It's not just parents of teens who've taken notice," said Mullen. "It's scarey to put that newborn in a car the first time. We have soon-to-be-parents in here daily who want the safest vehicle available, and Honda has earned that reputation."
In addition to the 2012 IIHS honors, Honda received more 2011 J.D. Power and Associates Initial Quality Awards than any other brand. These distinctions, combined with the low annual percentage rates and pricing deals going on during Honda's Really Big Sales Event has pushed Honda sales forward for 2nd quarter. Visit http://reallybigsalesevent.com/ to see the Really Big Sales Event deals and learn more about Honda's safety record.
RITZ Marketing represents the Penske Automotive Honda dealers in the Central US region, as well as the Detroit Area Honda Dealers. Ritz Marketing manages the Really Big Sales Event URL at http://reallybigsalesevent.com/.
Kathleen Ritz, Ritz Marketing, Inc.
President
(704) 358-9202