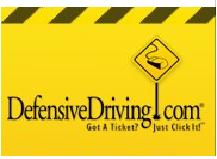 "After 43 years of driving I learned things I did not know. Very useful course I would recommend to others, just to learn."

Bill S.
Houston, TX (PRWEB) April 13, 2012
DefensiveDriving.com, a national leader in online driver safety programs, is pleased to announce it is now offering residents of New Jersey who are 55 years and older, a course approved by the State of New Jersey Motor Vehicle Commission.
With one out of every four New Jersey residents above the age of 55, this course helps drivers understand the changes aging has on driving and how to compensate for these changes. Drivers over the age of 55 who successfully complete the course qualify for a reduction of premiums for automobile insurance.
Unlike other courses offered throughout the state,DefensiveDriving.com's course does not require customers to leave the comfort of their own home. Typically, the six hour course is broken out over the course of two three hour days either over a weekend or two week days.
"DefensiveDriving.com recognized there was need for a different type of driver refresher course in New Jersey. This course allows the opportunity for older drivers to receive a refresher on driver safety basics, along with tips for defensive driving and suggestions for compensating for physical changes due to normal aging while driving. Older Americans are just as adept with the internet and computers as younger people, so we felt it was great medium to provide our course, affording them benefit of convenience to to the course at their home and their own pace," said Kent Bissell, President of DefensiveDriving.com. "As drivers get older, there auto insurance premiums typically increase and this is a great way for drivers 55 years and older to control some of their costs related to driving," Bissell added.
The New Jersey Mature Driver Improvement course is available for $19.75 and the state approved certificate of completion can be directly downloaded to the customers desktop. The six hour course can be taken over a 90 period and the student is able to log in and log out as many times as they want, as the course keeps track of their progress. Upon successful completion, the New Jersey approved certificate qualifies the student for a premium reduction on their Automotive insurance.
DefensiveDriving.com was founded in 1999 as one of the nation's first online driver safety training organizations. DefensiveDriving.com has certified over 2,000,000 drivers across the country, for corporate fleet training and individual driver safety courses for ticket dismissal and insurance reduction. DefensiveDriving.com was one of the first companies to offer high quality video courses available in an online streaming video format and the company offers web-based education for drivers across the country. The company provides comprehensive driver safety training, including the monitoring and tracking of customer or employee completion. The training is designed to be completed at any time or anywhere the customer has access to a computer and the Internet. The company offers 24-hour, 7-days-a-week, 365-days-a-year support from a team of driver safety professionals, at 888 545 5422 or at http://www.defensivedriving.com