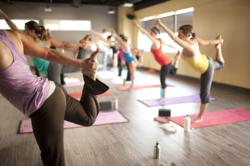 We are excited about the impact we can make by coming together in our communities and making a true difference in the world.
Denver, CO (PRWEB) April 12, 2012
This Earth Day, the nation-wide CorePower Yoga community will come together to practice yoga and affect lasting, widespread change. In an effort to provide its students with an opportunity to make a difference in their lives and the lives of others, CorePower Yoga will offer donation-based classes benefitting fellow Denver-based non-profit Water For People at all of its studios on April 22. Founder and CEO Trevor Tice will match donations up to $5,000.
When: Sunday, April 22, 12:00pm
Where: All CorePower Yoga studios
What: CorePower Yoga 2
"CorePower Yoga was attracted to working with Water For People because of its commitment to lasting, widespread change," said CorePower Yoga Founder and CEO Trevor Tice. "We are excited about the impact we can make by coming together in our communities and making a true difference in the world."
According to Water For People, many of the 783 million people across the world who do not have access to safe water suffer because the partnerships, systems, investments and empowerment don't exist to change this reality for the long term. Water For People facilitates a groundswell of change by working with communities, partners, governments, and the private sector to improve access to water and sanitation for everyone in a wide region, forever. Water For People's job isn't done until the systems are in place so that safe water and sanitation are accessible for everyone, forever, without further need for a non-profit or charity ever again.
CorePower Yoga's CorePower Yoga Cares program has donated over $30,000 to non-profit organizations such as the American Red Cross and Denver-based The Gathering Place through donation-based classes in the past two years. Most recently, three Denver studios raised almost $1,000 for Whole Foods Market's Whole Planet Foundation in one weekend.
For more information about CorePower Yoga or the donation classes, please visit http://www.corepoweryoga.com. For more information about Water For People, please visit http://www.waterforpeople.org.
About CPY Cares
CorePower Yoga's mission - to inspire healthy living so everyone can live their most extraordinary life - extends beyond the yoga room and includes the communities of which we are a part. CPY Cares is CorePower Yoga's community donation and outreach program which seeks to support projects, activities, efforts, and events that reinforce our mission and empower people in underserved communities through yoga, health and wellness opportunities; the space to practice healthy living in their daily lives.
About Water For People
Water For People is an innovative and impactful next-generation international non-profit that believes investments made in water and sanitation services must lead to lasting and transformative change. The organization is dedicated to helping people in developing countries gain access to safe drinking water, improved sanitation, and hygiene education. Water For People's entrepreneurial approach establishes partnerships between government agencies, nongovernment organizations, and private enterprise to create self-managed water and sanitation services that reach everyone and also last forever.