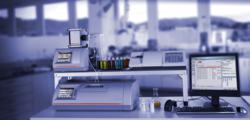 Ashland. Virginia (PRWEB) April 13, 2012
In the production of flavors and fragrances the measurement of density and refractive index plays a key role for many processes. The number of additional quality parameters is increasing and now often includes parameters like optical rotation, color or pH. This leads to considerable additional work and expenses, especially when these paraments are measured with stand-alone instruments.
As an alternative to using a number if single instruments, Anton Paar now provides a complete system for measuring called the Modulyzer. The core is the DMA Generation M which can be combined with a high precision refractometer RXA, an MCP series polarimeter, a color measuring instrument, and a pH module.
All parameters are measured simultaneously in one step and the resulting data is saved, printed or exported together. The system is controlled by a PC using Metrohm's Tiamo software.
To accompany the Modulyzer, Anton Paar provides an XSample autosampler to suit every application. The top model XSample 452 fills up to 96 samples, including highly viscous substances. The filling is controlled by sensors ensuring that only a minimum sample amount is necessary. After measurement, samples can be filled back into the vials so they can be used for other analyses.
Think effecient, think flexible, think modular: Think Anton Paar's Modulyzer for flavor and fragrances. For more information call (800) 722-7556 or email info(dot)us(at)anton-paar(dot)com.