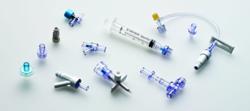 Bethlehem, PA (PRWEB) April 12, 2012
The B. Braun OEM Division (http://www.bbraunoem.com) of B. Braun Medical Inc.–an FDA-registered, ISO 13485 provider of contract manufacturing services and components for medical devices and custom procedure kits–provides one of the industry's most extensive selection of valves. The wide selection of valve options is detailed in a new Product Information Guide brochure from the company.
Available in both standard and custom options, configurations include needle-free, dual check, aspiration, low pressure, trumpet, normally closed and in-line. With an array of flow rates, materials, and sizes, B. Braun OEM Division's valves are designed to meet the toughest application challenges.
B. Braun's flexible facilities can provide automated, high-volume production as well as low-volume manual assembly for start-up custom designs. Valves can be purchased as individual components or integrated into devices or custom sets.
For more information on our line of valves, contact the B. Braun OEM Division toll free at 866-8-BBRAUN or visit http://www.bbraunoem.com.
About B. Braun
B. Braun is a leading manufacturer of infusion therapy and pain management products with an environmentally-friendly focus. Guided by the company's "Sharing Expertise®" philosophy, B. Braun addresses the critical issues of infection prevention, medication safety and environmental responsibility by promoting best practices that help clinicians reduce medication errors, prevent healthcare-acquired infections (HAIs) and achieve sustainability objectives.
Consistently recognized by Frost & Sullivan and KLAS for its medical technology and support services, B. Braun employees share their knowledge with colleagues and customers to improve working processes in hospitals and medical practices and to enhance the safety of patients and healthcare professionals.
For more information, call 800-227-2862, e-mail us at inquiry.us(at)bbraun(dot)com or visit B. Braun at http://www.bbraunusa.com.