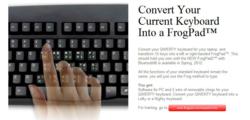 "Now is the time to go One Handed!" Dr. Gadget
Houston, Texas (PRWEB) April 13, 2012
QWERTYFrog, aka QFrog, for PC users, keeps the functionality of the regular keyboard while allowing the flexibility to type one-handed. The software and clings convert the 15 center keys on the Qwerty keyboard into a one-handed FrogPad keyboard. Simply download the software, peel and place the clings on the center keys, and Voila! one is ready to start typing. Go one-handed! http://www.frogpad.com/store.php
QWERTYFrog works just like the One Handed FrogPad, providing the option to choose left or right hand. Challenge yourself to this new way of typing. For current FrogPad users, the typing method will be an easy adjustment, and new users will find it easy to master.
QWERTYFrog is a user-friendly learning tool that is practical for those who still want the functions of a regular keyboard. With QWERTYFrog, with the ability to switch back and forth from a two-handed to a one-handed keyboard. http://www.frogpad.com/qwerty-frog.php
QWERTYFrog allows Frog typing method either left handed or right handed on a traditional keyboard at a minimal cost; The one-handed Bluetooth FrogPad keyboard, FrogPad2 will be available in late summer 2012.
Training First Shooter Game can be found on the web site, h ttp://http://www.frogpad.com/support.php
What will you do with your other hand?
About FrogPad Inc.
FrogPad Inc., based in Houston, Texas, is an innovator in one-handed data entry methods for mobile computing and multi-touch applications. It is a private company delivering its products through global partners. This document may contain forward-looking statements, relating to the company's future, based on FrogPad's projections. These statements are not guarantees of future outcomes and involve risks and uncertainties that are difficult to predict, and/or are beyond FrogPad's control. iPad app available on iTunes for free.
FrogPad and QWERTYFrog and QFrog are the trademarks of FrogPad, Inc. in the United States and other countries. Other product, service, and company names may be trademarks or service marks of others mentioned.
Press Inquiries and press demo software
Mark Parthie, 713-960-9611