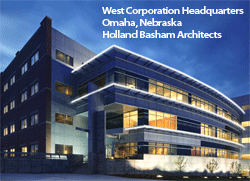 Muncy, PA (PRWEB) April 18, 2012
Construction Specialties Inc. (C/S) has been creating products to control the sun for over 55 years. Their newest offering, C/S Airfoil Lux solar shading system, provides the same benefits as their other sun control products but with an added bonus – LED lighting. This innovative technology, unique to the marketplace, utilizes LEDs that are built within the blades.
Suitable for all climates, C/S Airfoil Lux utilizes energy-efficient, very low voltage LED lights, available in a choice of colors, and can be designed to outline the contours of a building. Smart combinations of illuminated blades and conventional solar shading blades can create a dramatic effect on any building's facade. The blades, available in 8" or 10" widths in most colors in the Pantone® range, are finished with C/S' environmentally-friendly powder coat that has a 20-year AAMA 2605 warranty.
USGBC's LEED® program encourages architects to design buildings that save energy, let in natural light, reduce solar heat gain and allow for maximum occupant comfort and visibility. Airfoil Lux joins C/S' long list of sun control products that offer all those benefits. Architects, designers and building owners can choose from cantilevered, suspended and fixed sunshades as well at lightshelves, skylight shutters and Solarmotion® operating sun controls.
For more information, visit their website or call 800-526-6930.
About Construction Specialties
Construction Specialties manufactures and sells specialty architectural products internationally, with over 30 offices and manufacturing facilities worldwide. Its products include interior wall and door protection, entrance flooring, expansion joint covers, louvers, grilles, sun controls, explosion vents, smoke vents, and cubicle track/curtains. The company serves architects and designers, building owners, facility managers and contractors. Construction Specialties, Inc. was founded in 1948 and is headquartered in Lebanon, New Jersey.