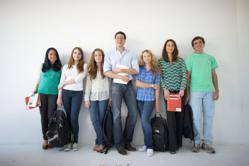 The All-in-One Academics summer College Application Crash Courses are the best way to get applications done - and done right.
Houston, TX (PRWEB) April 13, 2012
Following a time in which many college-bound high school seniors received notice of admission or rejection to the nation's top colleges, All-in-One Academics announced it would offer 2012 high school juniors the opportunity to gain an advantage in the college admissions process via All-in-One's Summer 2012 College Application Crash Courses. The courses will be held at The Houstonian (111 N. Post Oak Lane, Houston, 77024), and students will complete key written college applications components, under the seasoned guidance of company founder Jessica Givens and partner Amanda Halter.
All-in-One Academics, previously known as All-in-One Applications, offers a full suite of higher education preparatory courses, services, and publications. The team possesses more than twenty-six collective years of experience in education, law, and academic coaching for high school students preparing for a higher education track.
"Gone are the days of the one-page college application. College-bound high school students must now devote hours and hours to draft and compile the many components of their college applications," said All-in-One Academics founder and Get Your Summer Strategy On author Jessica Givens. "The All-in-One Academics summer College Application Crash Courses are the best way to get applications done - and done right. Due to student, parent, and educator demand, All-in-One Academics has added new summer 2012 courses and will be providing the courses in two formats - Condensed and Platinum."
During All-in-One's Condensed Crash Courses students are guided through the process of writing their college resumes and three application essays. The Condensed Crash Courses have a 10:1 student teacher ratio and include 20 hours of instructional time. Course Dates are July 9-13 (First session) and July 16-20 (Second Session). Sessions run 10a.m. – 3p.m.
All-in-One's Platinum Crash Courses provide a more intensive experience that includes two modules based on application type. Limited to ten students the five-day, 30-hour session features a 5:1 student-to-teacher ratio. Parents and students benefit from individual college-choice consultations and up to ten hours of additional essay editing by All-in-One's expert consultants. Platinum Crash Courses provide two modules, that target the Common Application—accepted by more than 400 U.S. colleges, and the ApplyTexas Application, accepted by Texas universities. Platinum Crash Course dates are July 30 – August 3 for the Common Application and August 13 – 17 for ApplyTexas. Classes run 9a.m – 4p.m. Students can enroll in both modules for a substantial discount (see website). Completely private, one-on-one, in-home coaching is also available by appointment and special arrangement with All-in-One Academics.
"In working with parents, students, and educators, All-in-One Academics has a shared mission to ensure that each student shines his or her brightest in the highly competitive, numbers-driven college admissions gauntlet," said Givens. "The summer 2012 All-in-One Academics Crash Course is the gold standard for every college-bound high school student who seeks a significant edge in the highly competitive college admissions process."
Enrollment for the 2012 Crash Courses is expected to fill to capacity by mid May 2012. Students may pre-enroll now at the All-in-One Academics website or via phone: 713.405.1193.
About All-in-One Academics:
All-in-One Academics is a Houston-based higher education consulting firm that puts high school students on their desired college path through strategic college application writing courses, targeted tutoring and test preparation, and guidebooks.