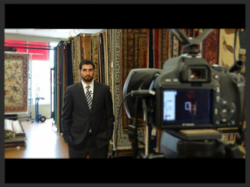 Ashkan's strategy is to keep ITC as a high-end Internet Marketing firm, placing the company's focus on the quality of the work...
Los Angeles, CA (PRWEB) April 13, 2012
Ashkan Sobhe (also known as Ash Sobhe) is the founder and CEO of ITC, an Internet Marketing firm located in Los Angeles, California. A Microsoft Certified Programmer, Ashkan attended UCLA and CSUN, majoring in Information Technology and Information Systems with a focus in Marketing and Digital Advertising.
Beginnings
Ashkan became interested in web development when he was 13, and his first customer was his father's rug gallery. He grew up helping his father and uncles with the family business and it was not long after that Ashkan Sobhe was creating websites for them and other companies, essentially paving the roadway for his company ITC. His unusually high IQ was identified while he was young, and he attended one of the top 4 schools for gifted children in the United States. After moving to California in 2003, he graduated from Beverly Hills High School and went on to attend California State University of Northridge.
IT Chair, Inc.
ITC was fully established in 1999 and is globally recognized as being in the top 1% of their industry. Its clients range from local businesses, such as the Sobhe family's rug gallery, to large corporations including UCLA, Toyota, Honda and State Farm Insurance. The company appeared for the first time in the Top 50 Search Engine Optimization Companies – March 2012 and again this month, by independent ranking authority TopSEO's, placing #26 in the SEO industry. This top 50 list is compiled monthly from the thousands of SEO companies on the Internet. Ashkan's strategy is to keep ITC as a high-end Internet Marketing firm, placing the company's focus on the quality of the work, not the quantity of work. ITC's mission is to provide high quality services to its clients, by accepting only a limited number of projects per year.
The name IT Chair, Inc. stems from Ashkan's natural gift with computers, combined with his involvement in various organizations. Every organization in which he was involved quickly elected him IT Chairman because of his vast computer acumen. Since he was always known as the IT Chair, it was only fitting that he use that name for his company.
Other Endeavors
Ashkan Sobhe has proven himself a leader from his early teens to present. He served two terms as President of the Persian club while at CSUN, presiding over 1500 members, and is a past Vice President of Business Network International – Los Angeles Money Makers Chapter. Currently, he sits on Google's Business Council.
As an entrepreneur, he not only started his own company in his early teens but has since acquired a software development company, as well as the online application "Down or Just Me." Doj.me allows one to discern if a connection issue is the fault of the server or the client. His portfolio also includes 45 percent ownership in an insurance company. However, Ashkan does not believe in keeping knowledge contained. He has taken his knowledge and successes to blog sites and various other forums on the Internet, helping people with their programming and website development. As an avid knowledge-seeker, Ashkan is driven to help others who want to learn and grow.
Charity Work
Ashkan Sobhe has been involved with not-for-profit organizations since he was young and has found a great passion working for these causes. An English research paper in 2005 prompted him to establish a website for troubled teens (http://teen.drsobhe.com/). He felt that teens all over the world would benefit from information put forth by other teens on common problems faced during those difficult years. Ash continues to be actively involved in the Juvenile Diabetes Research Foundation and PUSH America. He recently founded a charitable organization called Kids Empire, Inc., an organization dedicated to ensuring children diagnosed with cancer have the funds necessary to pay for their cancer treatment. Of all the accomplishments Ashkan has achieved in his life, he has enjoyed his work with the community the most.
Personal
Ashkan Sobhe is multilingual, fluently speaking English, Farsi, Azeri and multiple computer languages. He is currently learning sign language so he can better assist hearing-impaired children.
Ashkan continues to be involved in the family business, while running his own companies and continuing his charity work. For fun, he enjoys riding his motorcycle, smoking cigars, playing the guitar and reverse-engineering the algorithms of Google and other search engines. He has taken an interest in Wall Street and is thrilled with the challenge of purchasing and selling stocks and investments.
ITC is a high-end internet marketing firm that specializes in Search Engine Optimization (SEO), Social Media Marketing, Reputation Management and Video Production. For more information contact:
ITC
6404 Wilshire Blvd, Suite 850
Los Angeles, CA 90048
800-590-6953
info(at)itcfirm(dot)com
http://www.itcfirm.com/