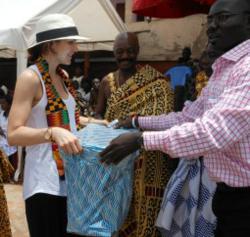 You see... how much malaria affects their lives in so many different ways.
Bethesda, MD (PRWEB) April 12, 2012
Ms. Katharine McPhee, star of the TV show Smash and an American Idol runner-up, recently visited the Promoting Malaria Prevention and Treatment project (ProMPT). Managed by University Research Co., LLC, ProMPT is working to promote malaria prevention and treatment throughout Ghana. The project is funded by the US Agency for International Development through the President's Malaria Initiative. Ms. McPhee is a spokesperson for Malaria No More (MNM), an international nongovernmental organization (NGO) dedicated to giving a mosquito net to every African at risk for malaria and to sustainably ending malaria deaths in Africa by 2015.
During her trip, Ms. McPhee visited the town of Aburi in Ghana's Eastern Region to see work ProMPT has done in partnership with national and international organizations, including MNM, to control malaria. Malaria poses serious health risks to Ghanaians and causes more than a third of child deaths in the country.
"You see…how much malaria affects their lives in so many different ways," said Ms. McPhee on MSNBC's Andrea Mitchell Reports. "One of the major things we did was distributing nets there…it truly is one of the major tools to... help eradicate the disease."
Ms. McPhee's visit was covered in the media, including People Magazine and the Daily Mail.
While in Aburi, Ms. McPhee attended a durbar, a traditional gathering of leaders – chiefs, queen mothers, and other dignitaries – and the public. Durbars are a traditional way to learn about important news and events. The Municipal Health Directorate and ProMPT helped organize the durbar, and ProMPT's social mobilization advisor, Mr. Maurice Ocquaye, served as one of the masters of ceremonies. The village chief greeted Ms. McPhee, USAID and ProMPT officials, and other participants and encouraged all villagers to sleep under a mosquito net every night. Also, a local NGO performed a drama to educate the public on malaria; PROMPT has trained 33 NGOs to engage communities in malaria prevention and control.
"Reducing the burden malaria places on the people and development of Ghana is a massive undertaking; ProMPT is fortunate to have many collaborators in our work, including Ms. McPhee," said Dr. Aguima Tankoano, ProMPT Chief of Party. "We are confident that together we are making substantial progress in controlling this disease."
Ms. McPhee also visited an antenatal clinic where pregnant women receive malaria-preventing drugs. ProMPT trained more than 9,000 Ghanaian health care providers in preventing and treating malaria during pregnancy.
Two weeks prior to Ms. McPhee's visit, ProMPT helped organize another MNM celebrity visit to Ghana for Ms. Martha MacCallum, co-anchor of America's Newsroom on the FOX News Channel, and Rear Admiral Timothy Ziemer, U.S. Global Malaria Coordinator and head of PMI. The visit was featured on FOX News.
ProMPT has supported thousands of durbars throughout Ghana to mobilize communities to take action against malaria by sleeping under long-lasting insecticidal nets (LLINs), recognizing malaria's symptoms, taking malaria medications, and attending antenatal care for malaria prevention. ProMPT also supported a door-to-door LLIN hang-up campaign in 2011, when nearly 4200 community volunteers distributed and hung more than 1 million LLINs in more than 600,000 households in the Eastern region. Such campaigns provide opportunities that other distribution strategies do not: while hanging bed nets over sleeping places, volunteers also inform residents about the benefits of routinely sleeping under the nets and teach people how to care for them. The evaluation of a similar campaign in Ghana's Northern Region in 2010 showed that ownership of insecticide-treated nets more than doubled.
ProMPT and its partners, the Malaria Consortium and Population Council, have worked with Ghana's National Malaria Control Program (NMCP) since 2009 to strengthen malaria prevention and control and scale up evidence-based malaria interventions. The project is building NMCP capacity and effectiveness and is engaging NGOs, communities, and the private sector to broaden the program's reach.
About URC
Established in 1965, URC is a global company dedicated to improving the quality of health care, social services, and health education worldwide. With its non-profit affiliate, the Center for Human Services (CHS), URC manages projects in over 40 countries, including the United States. Based in Bethesda, Maryland, URC has more than 850 employees around the world.