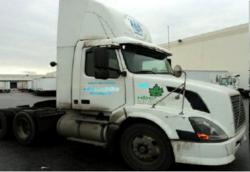 Vernon Hills, IL (PRWEB) April 12, 2012
HYPERAMS, LLC will conduct a timed online auction of trucks and trailers that will end on April 19, 2012. The assets are located in Canada and can be viewed prior to auction by appointment only. Items to be sold include; 2004 Volvo VNL 64T300 Tandem Day Cab (3), 2004 Volvo CNL64T300 Tandem Day Cab (1), 2005 VNL64T630 Tandem Sleeper (1), 2003 Capacity Shunt Truck (1) and a B111 48 foot trailer.Click here for additional information or to register for bidding,
HYPERAMS has been advising Hudson's Bay Company on a variety of projects since 2011. For additional information on upcoming HYPERAMS auctions, please visit http://www.hyperams.com
ABOUT HYPERAMS:
HYPERAMS –asset maximization services-focuses on disposing of and investing in the excess assets of distressed and healthy companies. HYPERAMS provides valuations of machinery and equipment in all industry verticals and consumer product inventory.
Appraisal Services:
HYPERAMS can provide a quick, accurate appraisal conducted within the guidelines of the Uniform Standards of Professional Appraisal Practice (USPAP). Whether you need to know the value of a single piece of equipment or the total value of a plant's complete asset listing, HYPERAMS is here to help you.
Asset Disposition Services:
HYPERAMS Asset Disposition Team focuses on investing in the excess assets of distressed and healthy companies alike.
HYPERAMS buys and manages the resale, collection, or redeployment of excess assets including inventory, machinery, commercial accounts receivable, real estate and loan portfolios.
HYPERAMS provides advisory services to those companies, financial institutions and professionals that need assistance in more comprehensive wind down situations, as well as in the coordination and negotiation of complex asset disposition transactions with outside service providers.
HYPERAMS sells machinery, equipment and other assets through various platforms including orderly liquidation and auctions, including live onsite, webcast and online sales.
More information about our services can be found by visiting http://www.hyperams.com.