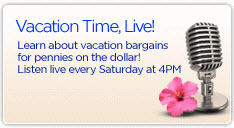 Orlando, Florida (PRWEB) April 12, 2012
Timeshares By Owner, is proud to announce that they are celebrating the 13th anniversary of 'Vacation Time, Live!' This syndicated radio show has been a powerful force in their achievement of being the leading timeshare advertising and marketing company in the vacation industry.
'Vacation Time, Live!' is a one hour, live talk radio broadcast featuring hosts, Mary Biddle and Michael Klimek, promoting the top cruise, resort, airfare, and leisure vacation deals available to the traveling public. Each week, the show is broadcast from amazing get-away locations while bringing luxurious discount opportunities for people across the globe to take holidays and relax.
With the expansion up the East Coast of Florida in 2011, pairing with the advent of iHeartRadio—a phone application designed to allow people to hear any radio station anywhere—'Vacation Time, Live!' has been able to reach the ears of listeners everywhere. The show has been recorded in live, remote locations including Universal Studios and SeaWorld, as well as from Magic basketball games at the new Amway Center; the world famous Orlando Gatorland; Disney's town of Celebration in Orlando; the Lakeridge Winery and Vineyard in Clermont, Fla.; Seminole Hard Rock Hotel and Casino in Tampa, Fla.; and, most recently, the ARDA World Annual Convention and Exposition in Las Vegas.
When asked how she felt about the success of the radio show, Biddle had this to say, "I believe the success of 'Vacation Time, Live!' is twofold; the passion Michael Klimek and I share in getting great travel deals to the masses as well as our mutual belief in making memories for families that will last a lifetime."
Originally as a half hour time slot, 'Vacation Time, Live!' began as a project that Biddle had begun after winning Gold awards at the ARDA Convention of 1996 for marketing programs that she was interviewed about by a local Christian radio station. After her interview was aired she was contacted by a Clear Channel representative who had heard the show and wanted to incorporate a travel talk show into their schedule.
Biddle hosted the show for three years before getting a call from Klimek, who was expanding his company, Timeshares By Owner with his partner Jeffrey Frantz. Klimek, Frantz, and Biddle met for lunch at the Steak and Ale in Altamonte Springs, Fla., where there was an immediate connection between Biddle and Klimek in regard to the vacation ownership industry. This instant chemistry became the perfect fusion for the creation of 'Vacation Time, Live!' And the rest, as they say, is history.
'Vacation Time, Live!' airs every Saturday at 4 p.m. on 540 WFLA and 1580 WCCF in the following Florida areas: Daytona, Cocoa/Melbourne, Central Florida, Orlando, Winter Park, Lakeland, Brandon, Brooksville, Crystal River, Sarasota, as well as worldwide via the internet.
ABOUT TIMESHARES BY OWNER®
Timeshares By Owner® has been in business for over 14 years and is dedicated to helping timeshare owners sell or rent their timeshare and to helping vacationers find their perfect vacations! For more information on Advertising Platforms for motivated sellers and renters, contact Timeshares By Owner® at 888-707-8463, or email us at sales(at)timesharesbyowner(dot)com. You can also visit our website at http://www.TimesharesByOwner.com.