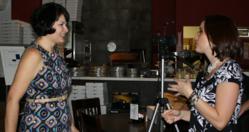 Economists estimate that passage of S. 2231 would infuse $13 billion into the economy and create 140,000 jobs at no cost to taxpayers
San Antonio, Texas (PRWEB) April 12, 2012
San Antonio Small Business Owners and Credit Unions from across the community held a joint press conference at Freetail Brewing Co. on Wednesday, April 11 to call on Senators John Cornyn and Kay Bailey Hutchison to support the Small Business Lending Enhancement Act(S. 2231). The bill, which is expected to be voted on within the next two weeks, would raise the arbitrary cap currently in place which allows credit unions to lend no more than 12.25% of their total assets to local small businesses. With the passage of S. 2231, credit unions could lend up to 27.5% of their total assets.
"Ninety percent of small business owners have indicated that access to capital is a significant issue for them, hindering them from growing their business and hiring new employees," said Tim F. Haegelin, Generations Federal Credit Union President and CEO. "Fifty percent of Americans work for small business owners. At a time when our country is struggling to get its economy back on track, it doesn't make sense to limit responsible growth that will enable these individuals, who are the backbone of our communities, to hire workers and expand their businesses."
The press conference was attended by numerous San Antonio small business owners as well as Generations Federal Credit Union, Firstmark Credit Union, United SA Federal Credit Union and Randolph-Brooks Federal Credit Union. Each of the small business owners in attendance had approached multiple banks but were unable to obtain necessary funding to grow and expand their businesses. However, all were later able to receive funding from their local credit unions.
Economists estimate that passage of S. 2231 will infuse $13 billion dollars into the economy and create approximately 140,000 jobs nationwide, more than 8,500 jobs in Texas alone, at no cost to taxpayers and without expansion of government. Additionally, it has been estimated that banks would still retain 90% of the business lending market share if S. 2231 is passed.
"The average credit union business loan is a little over $200,000. These are quite literally the loans that banks do not want to make because they are too small and because it doesn't provide enough return on investment for them," said Haegelin. "As not-for-profit financial institutions, credit unions can make these smaller loans. And that helps the local nail salon owner or air conditioning repairman buy equipment, expand their business and hire more workers; putting our community and our economy back to work."