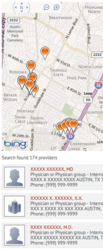 MyPhysicianList.com automatically emails users when new or updated providers match users' saved searches.
Austin, Texas (PRWEB) April 24, 2012
Datalytics LLC announced today that it has released a new web site, MyPhysicianList.com, targeted at marketers working for pharmaceutical firms, home health agencies, and other companies that sell to doctors and other medical providers.
"Our new service, MyPhysicianList.com, fills a niche between consumer-based physician search engines and full-service CRMs like Salesforce," said Scott Hertel, Managing Director of Datalytics. "MyPhysicianList.com includes a comprehensive searchable database of over 3.6 million medical providers, updated every month." For users of most provider search engines, identifying new or updated providers is a time-consuming manual task. In contrast, MyPhysicianList automatically emails users when new or updated providers match users' saved searches. This feature shows users exactly which providers are new or different, each month when the list is updated.
"It's a valuable time-saver," said Hertel. "Any marketer selling to doctors will instantly recognize the value of this service – but we offer it at a price any company can afford." The site displays search results on a geographic map and allows users to draw a shape on the map and find providers within the given shape.
"MyPhysicianList.com is an easy to use provider search tool to help B2B marketing teams drive referrals and increase revenue," said Bettie Girling, founder and former president of Girling Health Care, a large home health agency based in Texas.
Users can create and run unlimited complex searches for free, with search results limited to the first 500 results. This feature allows each new user to try out the product fully before pulling the trigger on a paid subscription. Paid subscribers ($199 per year) gain access to additional powerful features:

Paid subscribers can create and save multiple searches;
Subscribers automatically receive monthly emails identifying each new or updated provider that matches their saved searches;
Searches can return up to 50,000 results;
Search results can be downloaded as a file, and downloads are saved for a year for easy access in the future.
MyPhysicianList.com is designed to enhance selling to doctors, hospitals, or other medical providers. MyPhysicianList.com makes it easy to identify, locate, and sell to physicians and other providers by offering an advanced, easy-to-use search engine customized for finding medical providers by geography and specialty.
About MyPhysicianList.com
Designed to make selling to doctors and other providers efficient, easy, and cost-effective, MyPhysicianList.com combines a comprehensive, up-to-date database of medical providers with advanced, easy-to-use search and mapping features. MyPhysicianList.com automatically emails paid subscribers when new or updated providers match subscribers' saved searches, eliminating time wasted trying to identify new providers. All this value is offered at a price any company can afford. For more information, please visit http://www.MyPhysicianList.com.
About Datalytics LLC
Datalytics LLC provides software and services allowing health care companies to streamline business operations and maximize the value of the data stockpiled within their operating applications. By combining award-winning web-based tools with extensive industry knowledge, Datalytics® helps healthcare organizations master their data and increase their return on existing IT investments. For more information, please contact us or visit http://www.DatalyticsLLC.com.