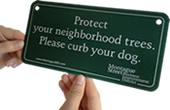 "Safety is our mission, and we are excited to help further the goals of non-profits and NGOs in any way we can," said Daniel Male, a SmartSign.com Manager.
Brooklyn, NY (PRWEB) April 12, 2012
SmartSign.com, an online retailer of business products in the printing industry, is providing free property signs to non-profit and non-governmental organizations. Community-based companies can personalize and enjoy the "SmartSign and You" giveaway without spending precious funds on signs, labels, and mats.
SmartSign is launching the giveaway to continue ongoing support of local communities and charitable organizations. The property signs can serve a variety of purposes for community groups. SmartSign operates over 60 sites geared toward the safety and security market, with the largest being MyParkingSign, MySafetySign, MyDoorSign, and SimplyExitSigns. MySecuritySign.com, specializing in security and no trespassing signs, lists the "SmartSign and You" page. The page discusses the giveaway program and invites shoppers to view the applicable signs, mats, and labels.
On the page, customers can view eight of the thousands of property signs customers have ordered as examples. Organizations may find items such as Community Watch Signs or Pitch In Signs or Labels beneficial for communities as well as great advertisement tools. SmartSign also suggests entrance mats, ID name badges, and no smoking signs as some of the many products to assist non-profits and NGOs. The products are made of the most durable quality materials on the Web, such as aluminum, plastic, and acrylic. Most are printed with ink from 3M that will stand out for miles and won't chip or fade.
The customization wizards allow shoppers to put personal messages on purchases instantaneously. Simply select a template, add text and personal artwork, and choose from the different materials for the sign's composition. Additionally, SmartSign invites non-profits and NGOs to sign up for a partnership. "Safety is our mission, and we are excited to help further the goals of non-profits and NGOS in any way we can," said Daniel Male, a SmartSign.com Manager. "Our new program offers free products or permanent discounts on signs and the most we might ask for is a link or two on your site."
To get started on receiving free property signs, labels, and mats, visit http://www.mysecuritysign.com/property-signs.
###
About MySecuritySign.com
MySecuritySign.com provides over 5,000 different security signs to protect any home or property. Whether it's video surveillance, no trespassing, or customizable options, the signs will last for decades through weather and abrasion. Find direct-from-factory items 50% cheaper than any competitor.
About SmartSign
SmartSign is one of America's fastest growing e-commerce companies and parent of http://www.MySafetySign.com, http://www.MySecuritySign.com, as well as over 50 other sites.
Traditionally, signs with the right message have been hard-to-find, hard-to-design and hard-to-order. By positioning "Signs as Solutions", SmartSign has taken an entirely different approach. Through highly targeted, yet content-rich and authoritative sites, the company provides specific solutions to specific problems - such as keeping property safe and secure. "We take the agony out of finding and ordering your perfect sign" - Blair Brewster, SmartSign founder. Couple this with fast and free shipping, 3M warrantied signs that outlast fast-fading ink jet signs from competitors, the web's largest range of designs and a best price guarantee, it is easy to see why SmartSign has grown so quickly.
Check out the company's blog to learn about how signs relate to everyday life matters at: http://www.smartsign.com/blog/.
###