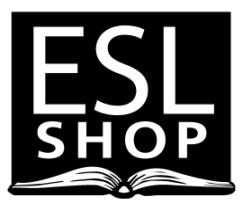 People who learn a new language become more effective communicators in their first language!
Romulus, MI (PRWEB) April 13, 2012
ESL Shop now carries materials to learn many international languages. Want to learn Modern Hebrew? Serbian? Swahili? Greek? Catalan? Spanish? French? ESL Shop supplies texts and reference material, and even has a list of experienced teachers and people interested in language exchange at their online forum called Teacher Find
Having been committed to supporting learners and teachers of English since launching in 2005, and in keeping with a love of all things multi-lingual and multi-cultural, ESL Shop is expanding to provide language learning materials in as many languages as there is a demand to learn. From French and Spanish to Japanese, Korean, Greek, Swahili and many other international languages.
The idea of improving collections to include other languages is a logical step for ESL Shop. Many customers are now teachers of English who are travelling off to exotic lands not only to teach English, but to experience other cultures and to learn new languages. Many other customers to ESL Shop, although speakers of English as a second or third language, are looking for support materials in their mother tongue so that their children and their children's children will be familiar with, if not fluent in, the language of their ancestors.
Even those who don't have a particular purpose for learning a language, other than a desire to try something new, studying a new language will provide many life-long advantages. Not to mention the social and career advancement benefits, it is well documented that people who learn a new language have a better understanding of their native language, are better able to manipulate language, and are more effective communicators. People who are even mildly proficient in a second language have been shown to learn new things more quickly than their monolingual counterparts, regardless of gender or academic level. Dual and multi-language speakers have a sharper ear for listening and also have better memories. With all of these benefits, plus the sheer joy speaking a second language can bring, it's no wonder thousands of people pursue language learning as a hobby.
ESL Shop collections in French and Spanish are already well developed (although by no means complete) with publications from companies like Larousse, Hachette, Dargaud, Dupuis, Le Robert and more. Other collections may still be in the early stages of development, but ESL Shop will happily special order titles currently not listed. Please leave a message with request at http://www.ESLShopOnline.com and a reply will be sent within 24 business hours.