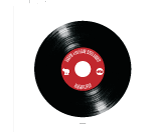 Take your next CD replication project to the next level with a Vinyl & Gold Record CD
Rancho Cucamonga, California (PRWEB) April 16, 2012
California based CD/DVD Replication Company Digital Flex Media announces a new solution that can make a finished CD look like a classic gold or platinum vinyl record. Compact discs are everywhere and they carry everything from music to software to training courses. A question often asked is how does the original message stay pure after so many replications from the original. Companies replicate mass quantities of CDs by making a mold of the original glass master with a process called stamping. This master has the texture and markings that translate into the music or software that's on the CD. From this newly stamped master, the CD made in mass production while preserving the original content. Typically, replication involves making over 10,000 copies from one master while duplication is used for lower quantities (50/250).
In addition to making the data just right, the labeling and packaging need to be accurate as well. Unique graphics and typefaces are available for all kinds of looks.
These are just a few of the things to look for when searching for a CD replication firm for your commercial production. They also offer:

CD Replication
HD Replication
Flex-DVD-5®
Business Card Discs
Mastering and Disc protection
DVD Replication
DualDisc
80mm Mini CD, DVD
Rub & Smell Scented Disc
Fulfillment & eCommerce
Tel: 909-484-8440 Fax: 909-581-6399
Sales (at) DigitalFlexMedia (dot) com
About Digital Flex Media
Digital Flex Media is a licensed CD/DVD Replication company that provides nationwide replication, Fulfillment and packaging services to clients. The California-based company, founded on one principal and one goal is to provide best service and take pride in exceeding the expectations of every customer with more than a decade of experience providing services in various disc formats for clients in virtually every industry.
Digital Flex Media is encouraging those in need of quality, affordable, media solutions to visit them today at http://www.DigitalFlexMedia.com for information on how their services match the important requirements of today fast paced business environment.