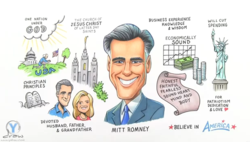 Ydraw's video scribing videos are amazing, and this Mitt Romney vs Obama video might be the best one yet...
Saint George, UT (PRWEB) April 17, 2012
Mitt Romney vs Obama video is a video scribing video by Ydraw that shows Mitt Romney's impact on many Americans in his campaign for winning the republican nomination election. "His career as former governor of Massachusetts has shown the American people that this candidate is a force to be reckoned with for the presidential campaign of 2012 against Obama," as quoted by the Ydraw video.
"Voters everywhere will be stunned by this compelling video scribing Mitt Romney vs Obama video, as it teaches viewers about Mitt Romney, as well as gives a brief biography of his hard work and innovation that has led him to be a top competitor for the 2012 president seat." as quoted by the Ydraw video.
The video scribing video of Mitt Romney vs Obama deals with the economic crisis America now faces with the Government policies on taxes, spending, capital, labor, regulation, energy, trade and labor.
"He works for more conservative policies, pushing for more power to the states. His slogan 'Believe in America' impacts all the American people in a positive and influential way. Mitt Romney was said to be raised as a more traditional Christian background, being of the Mormon religion, which pushes many Christian values. He relates him to a majority of the public in wanting what is best for all citizens. He wants a smaller but smarter government, pushes for less regulation and more open markets, and works to push taxes to be fairer and simpler... For more on Mitt Romney vs Obama's video scribing video, visit Ydraw's blog under 'Mitt Romney Video'", as quoted by the Ydraw video.
Ydraw offers services like this for any company that is interested. These video scribing videos get conversions and catch attention of people everywhere. Whether it be from politics, product explanation, safety tutorial videos, or commercials, Ydraw does it all.
Watch Ydraw's video and be amazed by the precise animation and detail that is produced in this Mitt Romney vs Obama video.