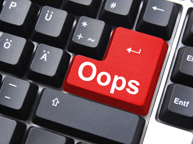 "The savings comes when you bundle."
- Jack Maney
Woodland Hills, CA (PRWEB) April 13, 2012
Error-Omission.com, a website owned and maintained by Brilliant Insurance Services, is proud to announce a wide new appetite for those in the Real Estate industry. There are several different classes of business that fall into this category including, but not limited to, real estate sales, mortgage brokers, appraisers, inspectors, and property managers.
Getting professional liability insurance for realtors or real estate agents is fast and easy. The rate is only based on a few factors and the application process is relatively simple. There are over ten insurance carriers offering the coverage in California. However, many real estate agents and brokers are finding themselves augmenting their income by adding on more services. This is when things start to get tricky with respect to underwriting.
Professional liability for property managers, in turn, is relatively easy, but when the applicant states that he or she makes 40% of their income doing "commercial building inspections", several carriers may "bow out", and take a pass on the risk.
So what is Errors and Omissions or Professional Liability insurance? If the policy is underwritten correctly, the policy would cover professional mistakes, or acts or omissions that result in economic loss to the insured's customer.
What makes this kind of insurance different from other types of policies? The most important aspect of Errors and Omissions insurance or Professional liability insurance is the fact that it is written on what is called a "claims made" policy. This means that for the coverage to apply, both the claim and the reporting of the claim have to occur during the policy period. If the policy were to lapse, cancel, or not renew, the coverage is gone. Year to year, the policy is renewed and the "prior acts" date is preserved.
Errors and Omissions Insurance or Professional Liability Insurance, should be handled by competent insurance brokers that understand the serious nature of the risk. The most important news feature today is the Brilliant Insurance Services has now contracted with ACE Insurance Company and together are able to "bundle" risks that traditionally have not been able to be bundled.
So for example, if someone were trying to get insurance for real estate inspections, appraisals, and leasing, it could be bundled under one policy.