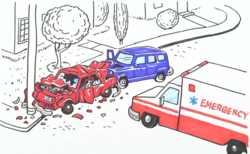 Buckfire & Buckfire is the first law firm in the US to create a video scribing video, and this video has impacted many other companies to create one as well
(PRWEB) April 18, 2012
Michigan car accident lawyers firm Buckfire & Buckfire have released a new video scribing video to explain their services in a fun and compelling way. The first law firm in the US to ever create a video scribing video, this video is the start of a new trend.
With release of their new video by Ydraw, Buckfire & Buckfire takes viewers through a story of an unlucky couple, George and Kathy, who's lives were badly interrupted by a serious injury in a car accident. They both suffered from major injuries, and their insurance provider was not paying their medical bills. They were in a deep hole, in need of help by someone they could trust.
They went in search for car accident lawyers in Michigan, and found Buckfire & Buckfire to represent them. As shown in the video, this amazing team of lawyers and staff gave George and Kathy just the assistance they needed. Buckfire & Buckfire made sure all their medical bills were paid for, and they received a settlement from their insurance company.
Video scribing is a new form of video where highly talented artists draw out scenes during the video to help viewers better retain and explain information in a unique way. Buckfire & Buckfire is the first law firm in the US to create a video scribing video, and this video has impacted many other companies to create one as well, according to Ydraw.
Accident attorneys in Michigan deal with all types of injury cases. Buckfire & Buckfire deals with auto accidents, motorcycle accidents, wrongful death causes, medical malpractice lawsuits, nursing home neglect cases, slip and fall cases, dog bite attack cases, and all other personal injury cases.
Visit Buckfire & Buckfire's websites to view past case results, testimonials from previous clients in Michigan, articles, and free legal books. To get the maximum settlement on a personal injury case, contact Buckfire & Buckfire today for a free consultation and no win no fee lawyer.
Buckfire & Buckfire PC
25800 Northwestern Highway, #890
Southfield, MI 48075
Toll: (800) 606-1717
Ph: 248-569-4646
http://www.buckfirelaw.com