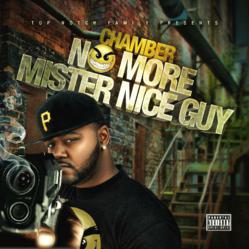 Miami, FL (PRWEB) April 11, 2012
Rap artist Chamber recently released his mixtape "No More Mister Nice Guy." Coast 2 Coast presents the project along with Top Notch Family. It is now available for free download. "No More Mister Nice Guy" features Chamber on tracks with guest artist appearances from Geez From Brickz, Uncle Murda, Bluntbelike, Superstar Straps and Adonis Star. Production credits include Emazing, Sonofabeat, K Cruz, Quest, SuburbanSounds, Lynx, Bug and Ebonikz.
Jermayne Anderson was born September 17, 1984 in New Jersey. As in any urban city, Jermayne was forced to fend for himself in Carteret, NJ. Trials and tribulations caused him to become a hardened individual, inside and out. As he got older, he learned to control his aggression by going deep into his mental Chamber—a dark and frustrated place he turned into a lab for creating hard-hitting lyrics. Over time, his words became more and more prolific. In battles, his punch lines devoured his opponents as his militant, melodic flow matured. Eventually, Jermayne felt the world was ready for him and became his self-proclaimed Chamber.
Chamber's undeniable style, sound and demanding demeanor are blessed by his swagger. As a 6'6" rapper, Chamber is aggressive, but his flamboyant, money-ain't-a-thing persona rounds out the rapper. Locally, he's called the Punchline Prince. Both good and bad choices have carved Chamber into this present hulk of a rapper. He is introduced today as the Chamber of rap who makes music rap-listeners crave, who does not hold back, whose versatility make him instantly relatable.
"No More Mister Nice Guy" is available for free streaming and download at http://coast2coastmixtapes.com/mixtapes/mixtapedetail.aspx/chamber-no-more-mister-nice-guy