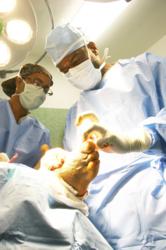 This is a very promising alternative to surgical intervention
Inglewood, CA (PRWEB) April 13, 2012
Dr. Bill J Releford, DPM, medical director and founder of the Releford Foot and Ankle Institute, announced today results from several case studies using platelet rich plasma therapy (P.R.P.) to treat osteoarthritis of the ankle joint. Each patient was recommended for total ankle fusion after conservative treatment modalities had been exhausted. Each patient was treated with a series of three injections of platelet rich plasma therapy ( P.R.P.) over a six week period. The most profound initial subjective finding was decrease in pain and moderate to significant increase in range of motion."As a professional drummer, my livelihood has been in the balance because of the severe pain and stiffness in my ankle. Now, after several treatments with P.R.P. I am able to play pain free and even jump rope", states I.Grant, patient at the Releford Foot and Ankle Institute.
"This is a very promising alternative to surgical intervention," states Dr. Bill Releford, medical director of the Releford Foot and Ankle Institute. "There is nothing more gratifying to be able to enhance the quality of life," Dr. Releford continues.
ABOUT P.R.P.
Platelet Rich Plasma therapy, also known as P.R.P. is a revolutionary way to address tissue injury by using "healing" components derived from a patient's own blood. These "healing components" or growth factors have been shown to be effective in treating ankle sprains, Achilles Tendonitis, Heel Pain / Plantar Fasciitis, Ischemic Pain as well as Chronic Non-Healing Wounds, as cited in the J ournal of Orthopedic Research (Jan 2006) This therapy has been recently popularized by success experienced by professional athletes such Tiger Woods, Pittsburgh Steelers Hines Ward and Troy Palomalu.
THE PROCESS FOR RECOVERING PLATELETS
A very small amount of blood is drawn from the patient into a sterile tube in the exact same manner as a standard blood sample. The tube containing a patient's blood is placed into a centrifuge and spun to separate the platelets from the other blood components. After a few minutes, the concentrated platelets are removed from the same tube and re-introduced into the patient at the site of the injury. Using a sterile needle, your physician will inject the PRP in and around the injury site. This is all accomplished without using any animal products or other foreign material.
ABOUT DR. BILL JAMES RELEFORD
Dr. BILL J. RELEFORD, D.P.M. a graduate of the Temple School of Podiatric Medicine in Philadelphia, began his practice in 1990 and established the Diabetic Foot Institute, a facility dedicated exclusively to the reduction of diabetes-related amputations in high-risk populations. Dr. Releford is recognized both domestically as well as internationally as a leader in the field of diabetic limb preservation and wound care.
Dr. Bill Releford's limb salvage and wound care success involves utilizing a multi-disciplinary approach to limb salvage where vascular surgeons, infectious disease specialist, plastic surgeons, endocrinologist all collaborate solely for the benefit of salvaging a foot at risk of amputation. Dr. Releford also uses Platelet Rich Plasma Therapy to treatment foot injuries as well as chronic non-healing wounds.
Dr. Bill Releford is founder and CEO of The Releford Foot & Ankle Institute in Los Angele s. The Releford Institute's mission is to effectively decrease the diabetes related amputation rate in Los Angeles and its surrounding communities by providing a comprehensive wound care and limb salvage service. The Releford Institute addresses patients specialized needs and creates individual treatment plans to heal wounds and prevent amputations.
Dr. Bill Releford's community outreach and health care advocacy efforts are facilitated through the Diabetic Amputation Prevention Foundation (DAP), a non profit organization he founded in 2001, whose mission is to increase public awareness of diabetes through culturally specific education and community based programs. The education of at risk populations to better understand the disease, its complications as well as the standard of care as it relates to diabetes is the primary focus.
Dr. Bill Releford and the DAP Foundation have been recognized for the success of the Black Barbershop Health Outreach Program. Since it's inception in December 2007, the program has screened over 25,000 men for diabetes and hypertension in over 450 black owned barbershops in over 26 cities. Dr. Bill Releford is an assistant professor at Charles R. Drew University and lectures both domestically as well as internationally about the latest techniques in limb salvage and community based outreach strategies. Additionally, Dr. Releford has recently authored his much anticipated book, "Five Colors A Day to Better Health". Dr. Releford and his work have been featured on NBC Nightly News with Brian Williams, ABC's THE VEIW as a featured guest, The Washington Post, Newsweek as well as the Los Angeles Times.