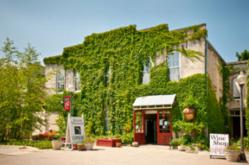 New York Festival's World's Best TV Commercials™ has become a highlight of the annual Art Attack weekend," commented Mr. Garasic, "and the Acorn Theater is the perfect venue to showcase these commercials from around the globe."
"
New York, NY (PRWEB) April 11, 2012
Chuck Garasic, President of the Harbor Country Chamber of Commerce, will present a 40 minute screening of the World's Best TV Commercials™ at the 19th Annual Harbor Country Art Attack on Friday, April 27th. The screening will take place at 7pm at the Acorn Theater, 107 Generations Drive, Three Oaks, Michigan. The World's Best TV Commercials showcase a captivating selection of award winning commercials from New York Festivals International Advertising Awards competition that are certain to entertain viewers with their spectacular imagery, humorous situations, creative concepts, and their international scope.
"New York Festival's World's Best TV Commercials™ has become a highlight of the annual Art Attack weekend," commented Mr. Garasic, "and the Acorn Theater is the perfect venue to showcase these commercials from around the globe."
The evening program Ad Fest: The World's Best TV Commercials will also feature complimentary cuisine by area chefs, along with a scholarship presentation for high school students who excel in art and culture. Ticket prices are $40 per person, and a cash bar will also be available. Please call 269-756-3879 to make reservations; tickets will be held at the door.
The Annual Harbor Country Art Attack takes place in the eight lakeside resort communities in the southwestern corner of Michigan that comprise "Harbor Country". The series of events begin on April 27th and continue thru the 29th, and offer gallery receptions, artists' workshops, demonstrations, interactive exhibitions, theater, music, and food. For more information on this year's Art Attack, and a complete listing of the weekend's events, please go to: http://www.harborcountry.org/Art-Attack-118/
All press inquiries are welcome and should be directed to Rita Cochran 269-469-5332
or contact(at)localcolorartgallery(dot)com or Chuck Garasic 269-469-0332 or email(at)sweethavenresort(dot)com.