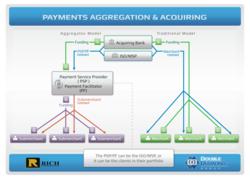 We take the mystery and complexity out of implementing this payments model, making it affordable, simple and quick for merchants, developers and service providers to start taking payments.
Denver, Colo. and Los Angeles, Calif. (PRWEB) April 12, 2012
Double Diamond Group, LLC and Deana Rich Consulting, Inc., today announced they are teaming to offer a dynamic package of consulting services to Independent Sales Organizations (ISOs), Merchant Service Providers (MSPs), and e-commerce and mobile commerce service providers who would like to establish merchant and micro-merchant acquiring processes using a payments aggregator model.
Rich Consulting and Double Diamond Group are combining their backgrounds and expertise in payments business strategy, merchant acquiring, risk management and compliance to launch a suite of payments aggregator consulting services that includes:

Business, competitive and opportunity analysis
Payments aggregator business case development and gap analysis
Evaluation and selection of bank and processing partners
Risk management and compliance support, including writing policies for underwriting, risk, fraud, ACH rejection and collection, sub-merchant to merchant transition, and other compliance-related matters
Policy education and training of key staff
Program implementation oversight
Payments innovators and e-commerce providers like PayPal, Square, Amazon and 1-800 Flowers have turned payments aggregation into a mainstream payments model. Visa and MasterCard recently have enhanced their rules regarding payments aggregators, or Payment Service Providers and Payment Facilitators, as they call them, to accommodate a growing interest in this payments scheme. As a result, more and more ISOs and MSPs are considering implementing the payments aggregator operating model for themselves, and/or their clients.
"ISOs, acquirers and service providers tend to have a lot of questions about the challenges and risks of implementing a payments aggregator model," said Deana Rich, president of Rich Consulting. "Our goal is to take the mystery and complexity out of the process so that potential payments aggregators can objectively evaluate how this alternative payments scheme can work for their businesses and customers without taking on inordinate risk. We then provide the necessary counsel and resources for setting them up."
"Technology has dramatically changed the payments landscape for more than a decade, and the explosive growth of smartphones is changing the environment even further," said Todd Ablowitz, president Double Diamond Group. "The growth in mobile commerce and payments is paving the way for more small businesses, micro-merchants, developers and service providers to enter the marketplace, and they are looking for affordable, simple and quick to implement payments solutions. The payments aggregator model is another alternative that ISOs, acquirers and service providers can use to meet their customers' demands, while also boosting their bottom lines."
About Double Diamond Group
Denver-based Double Diamond Group, LLC provides expert consulting services to the global electronic payments and mobile payments industry. Founded in 2008, by industry veteran Todd Ablowitz, Double Diamond Group helps payments industry clients solve their most critical business challenges with a unique blend of experience, connections and know-how. From venerable leaders to promising start-ups, Double Diamond Group works with companies of all sizes from around the world, including processors, acquirers, ISOs, agents, vendors, suppliers, service providers and merchants. Visit http://www.doublediamondgroup.com more information.
About Rich Consulting
With a mission of providing superior acquiring services to the bankcard industry, Ms. Rich incorporated Deana Rich Consulting, Inc. in 2004. With more than 20 years in the industry, Ms. Rich brings compelling insight and experience to advising all levels of the acquiring and payments industry—associations and brands, member banks, ISOs and merchants alike. She is particularly focused on the critical role of education throughout all levels of business, which cultivates cohesive, intelligent operations that minimize fraud and risk vulnerabilities, while enhancing effective operations and profitability. Visit http://www.deanarich.com for more information.
###