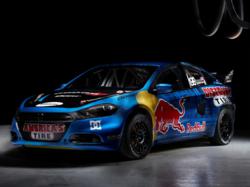 I'm thrilled that Discount Tire is supporting Pastrana 199 Racing," said Pastrana. "Fielding my own team this year with help from sponsors like Discount Tire is a dream come true."
SCOTTSDALE, Ariz. (PRWEB) April 12, 2012
Discount Tire, America's largest tire and wheel retailer, teams up with Travis Pastrana and Pastrana 199 Racing as the company joins the Global Rallycross Championship series racing in 2012.
Discount Tire enters as a presenting sponsor for the Pastrana Racing/Red Bull/Discount Tire backed Dodge Dart during the Global Rallycross Championship racing season that begins this May.
Pastrana has been a dominate force in U.S. rally racing since embarking on his first full season in 2005. At age 23, he became one of the youngest American rally champions ever, and won the series four years in a row from 2006 to 2009. Pastrana also has medaled at all four X Games Rallycross events, including two Gold medal victories.
For the 2012 Global Rallycross Championship campaign, Pastrana will drive his custom-built Dodge Dart featuring a 2.0-liter, 4-cyclinder, 16-value, turbo-charged 600-horsepower engine coupled to a Sedva 4-wheel drive gear box. Expected to deliver incredible 0 to 60 mph times as low as 1.9 seconds, Pastrana is poised for another great season. Watch the video of Pastrana pushing the Dodge Dart to the limits at the Dodge Proving Grounds: http://bit.ly/HrB0IK.
Discount Tire stated: "We have assembled an array of championship talent representing our brand throughout the world of motorsports. Travis is among the elite in his sports and will help introduce Discount Tire to automotive enthusiasts who follow both the excitement of rally racing and Travis' winning personality."
Global Rallycross Championship racing combines the best aspects of circuit racing, off-road racing and rally competition to deliver intense action in a variety of fan-friendly environments. Pastrana has described the sport as, "Motocross – with a roll cage."
This made-in-the USA variation on the established European sport of rallycross pits small production-based cars against each other for door-to-door racing that features dirt, asphalt, and a 70-foot gap jump. Drivers progress through a series of timed heats involving multiple cars to a final, winner-takes-all race.
"I'm thrilled that Discount Tire is supporting Pastrana 199 Racing," said Pastrana. "Fielding my own team this year with help from sponsors like Discount Tire is a dream come true. They are a company who understands winning on and off the track, and I'm looking forward to a having a great year with them."
Keep up to date with everything that Travis Pastrana and Discount Tire are doing together by following online:
Facebook:
facebook.com/TravisPastrana
facebook.com/DiscountTire
Twitter:
@TravisPastrana
@DiscountTire
Website:
travispastrana.com
discounttire.com
About Us
Discount Tire/America's Tire, based in Scottsdale, Arizona, is America's largest tire and wheel retailer. The company does business under the trade name Discount Tire in most of the U.S. and America's Tire in Oregon, and parts California. The company currently operates more than 800 stores across the country. In 2010, the company marked its 50th year serving customers as their trusted tire retailer in local markets across the U.S. Discount Tire/America's Tire also sponsors NASCAR Nationwide Series, Monster Energy AMA Supercross, Formula D and Global Rallycross Championship racing. News, driver appearances, show car schedules and racing schedules can be found at http://www.discounttiremotorsports.com. For more information about Discount Tire/America's Tire visit http://www.discounttire.com or http://www.americastire.com.