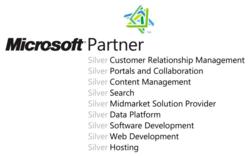 Tricension has built its own project framework around the Agile Methodology known as the Tricension 3D solution: diagnose, develop, and deploy
Kansas City, MO (PRWEB) April 12, 2012
Kansas City based Tricension, a leading provider of Microsoft technologies including Microsoft Dynamics CRM, SharePoint, Silverlight, and .NET development announced today that it has achieved its 9th Microsoft Silver Competency certification. This certification follows Tricension's established track record of providing clients of all sizes superior solutions across multiple Microsoft platforms by utilizing their business solutions culture and solid project management with an agile development methodology.
In order to qualify for these new competencies, Microsoft requires partners to acquire multiple technical and business related certifications and provide three to five customer references per competency. Tricension's standing track record of Microsoft SharePoint, Microsoft Dynamics CRM, and Microsoft Silverlight development made this an easy feat for the Midwest business and IT solutions firm.
Tricension's Silver Microsoft Partner Competencies include:

Microsoft Content Management
Microsoft Data Platform
Microsoft Midmarket Solution Provider
Microsoft Portals and Collaboration
Microsoft Search
Microsoft Software Development
Microsoft Web Development
Microsoft Hosting
In discussing Microsoft Content Management Microsoft boasts "SharePoint 2010 Content makes Enterprise Content Management (ECM) easy for everyone. Combining traditional content management, social capabilities, and powerful search, it is as natural to manage as it is to use. With its simple, 'behind-the-scenes' administration, you can quickly set up compliance policies, while its familiar interface lets your people work just as they would in Microsoft Office. The result is well-managed information that is easy to find, share, and use." SharePoint 2010 increases productivity and information value due to its close connection with Microsoft Office 2010 which leads to a simpler learning curve in an otherwise complex solution. In addition, SharePoint 2010 increases compliance and reduces risk. With some of the upgrades that SharePoint 2010 sees IT departments can expect to lower other costs due to the advanced abilities to manage multiple types of media along with advanced interoperability standards such as CMIS, XML, and REST to connect to legacy systems.
Regardless of SharePoint's growing popularity Tricension still finds itself answering the question of "what is SharePoint?" as well as businesses inquiring: "should we upgrade SharePoint to the SharePoint 2010 upgrade?"
Microsoft Dynamics CRM is out of the box customer relationship management software designed to attract customers, amplify sales, and delight existing clients. Simply put its focus is on sales, marketing, and service. Microsoft Dynamics CRM is marketed by Microsoft as an XRM platform and can be customized by utilizing the Microsoft .NET platform. Some corporations are now utilizing Dynamics CRM as a help desk tool to track customer interaction.
In the Microsoft web development space Tricension utilizes Microsoft technology such as Microsoft .NET development, Microsoft Silverlight, and Microsoft SharePoint. Tricension has a skilled team of developers and business analysts that are ready to tackle the most complex business requirements leveraging their advanced agile methodology tool belt. Mike Lammers, CEO of Tricension discusses how "Tricension has built its own project framework around the Agile Methodology known as the Tricension 3D solution: diagnose, develop, and deploy."
Tricension ensures that their clients possess reliable Microsoft solutions by participating in the Microsoft cloud reseller program and holding a Microsoft Silver Hosting certification. This allows Tricension to host clients' Dynamics CRM, SharePoint, and custom .NET solutions reliably by minimizing risk and application downtime. The Microsoft Cloud allows expandable hosting solutions for companies of various sizes without the need for dedicated server management resources. Tricension's hosting and cloud solutions allow integration between internal, external, and mobile applications from .NET solutions to SharePoint 2010 and Microsoft Dynamics CRM.
Tricension is a growing Kansas City, MO based solutions and development firm with a focus on Microsoft technologies. Their office houses on average twenty to thirty employees. They have clients of all sizes from less than a million in revenue to Fortune 500 corporations. They hold multiple Microsoft Partner Silver Certifications including Microsoft CRM, Microsoft Web Development, and Microsoft Content Management. Some of the technologies they leverage include Microsoft SharePoint, .NET development, Microsoft Silverlight, and Microsoft Dynamics CRM.