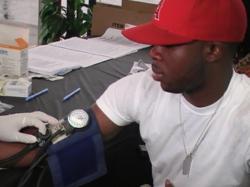 "San Diego Black Health Associates are working with the Black Barber Shop effort in Los Angeles to ensure that African American men to act in their own best health interests.
Los Angeles, CA, (PRWEB) April 12, 2012
The San Diego Black Health Associates (SDBHA) has just confirmed its partnership for the upcoming Black Barbershop Health Outreach Program taking place across the state of California on Saturday, May 12th, 2012.
From 11AM-4PM, volunteers will mobilize in San Diego cities along with metro cities like Los Angeles and San Francisco to facilitate screenings in over 75 black-owned barbershops. The program anticipates screening approximately 1,500 African American men for diabetes and high blood pressure during the multi-city event. Participants will also receive healthy lifestyle education and medical resources for local clinics and physicians.
"San Diego Black Health Associates are working with the Black Barber Shop effort based in Los Angeles to ensure that African American men to act in their own best health interests. We want consumers to know that chronic health conditions like diabetes and obesity are preventable. We are thoroughly convinced that by making a few changes to our diet and exercising regularly, we can live longer, function in a pain free environment and be the model for our children that they need" says Paul Simms, SDBHA President.
Founded by the Diabetic Amputation Prevention Foundation (DAP) in 2007, the tour has visited over 750 barbershops in 50 cities and 13 states and will continue its mission to screen 500,000 African American men by the end of 2014. This unique and innovative grassroots program works strategically with black-owned barbershops, because it represents such a cultural institution of familiarity and trust among African American males—making it the most effective avenue to disseminate health education information.
"The need to address health care disparities in African American men is paramount in light of the fact that they have the lowest life expectancy of any group in the U.S.," says Dr. Bill J. Releford, D.P.M., founder of the DAP Foundation. "For decades, the black barbershop has served as a centralized gathering place where African American men feel comfortable discussing the most important issues that impact their lives: politics, social trends, family and finances. Now, we are introducing an important discussion of health and the critical need for health awareness."
Compared to the general public, it is African American males who have a higher risk of diabetes and other cardiovascular conditions, such as high blood pressure and high cholesterol. The American Diabetes Association estimates that 3.7 million (14.7 percent) African Americans ages 20 years or older have diabetes, while statistics show that forty percent (40 percent) of African American men die prematurely from cardiovascular disease as compared to twenty-one percent (21 percent) of white men.
Dr. Bill Releford organized the initiative to empower African American men to better understand cardiovascular diseases. As he travels across the country to spread awareness, he welcomes corporations, small businesses and county facilities to get involved in the mission. To learn more about The Black Barbershop Health Outreach Program log-on to http://www.blackbarbershop.org and please remember to support this statewide effort on May 12th.
About San Diego Black Health Associates
Over a 20-year period, SDBHA has operated specific programs aimed at improving the health status of black people and other people of color. In addition, SDBHA is a resource for healthcare professionals, organizations and laypersons. Through the use of dedicated volunteer members, SDBHA has developed strong working relationships with a variety of community agencies and organizations, including the African American church. Through these collaborations, we have been successful in maximizing the impact of our community health promotion activities. Visit them online at http://www.sdbha.org.
About Dr. Bill Releford
As Founder of the Black Barbershop Health Outreach Program and the Diabetic Foot Institute, Dr. Bill Releford is a visionary and industry pioneer. He began his private practice in 1990 and has dedicated his life's work exclusively to the reduction of diabetes-related amputations in high-risk populations. Dr. Releford and his efforts have recently been highlighted in the Los Angeles Times, The Washington Post, Newsweek Magazine, THE VIEW, THE DOCTORS, NBC Nightly News with Brian Williams as well as the TODAY SHOW and more. Additionally, Dr. Releford's innovative community organizing strategies culminated into an invitation from President Obama to attend the White House Super Bowl Party in 2011. To learn more about Dr. Relford and his work visit http://www.drreleford.com.
About the Diabetic Amputation Prevention Foundation (DAP)
The DAP Foundation's African American Men's Outreach Program seeks to partner with community groups and organizations to reduce the incidence of health conditions that adversely affect African American males by utilizing education, prevention and early detection through screening activities. DAP's efforts have already been successfully duplicated in other metropolitan areas, such as Oakland, Chicago, Philadelphia, Washington D.C., Atlanta and Baltimore. For more information on participating or sponsorship opportunities, please visit http://www.blackbarbershop.org