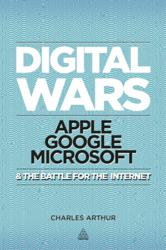 On 9, August 2011, Apple's market capitalization briefly rose to $341.5 billion, edging it just ahead of Exxon, until that morning the highest valued company in the world. From Digital Wars by Charles Arthur
Philadelphia, PA (PRWEB) April 12, 2012
They were radically different companies and they would subsequently fight a series of pitched battles for control of different parts of the digital landscape: search technology, mobile music, smartphones and the tablet market. Their weapons would be hardware, and software, and advertising. At stake were their reputations – but equally, our future.
Starting in the late 1990s and ending with the sad death of Steve Jobs. Digital Wars looks at each of these battles in turn. Accessible and comprehensive, it analyses the very different cultures of the three companies and assesses exactly who are the victors on each front. The stakes are high as the reward for winning is not only enormous wealth, but also the chance to control another part of the digital landscape, displace an existing rival, and determine the shape of things to come.
Charles Arthur is the technology editor at the Guardian newspaper. An experienced journalist, he has over 25 years' experience in technology and science journalism. He has met with Bill Gates and Steve Jobs on numerous occasions and met Sergey Brin and has extensive experience of reporting on the activities of Apple, Google, and Microsoft. He speaks regularly at conferences, writes and blogs on all topics relating to technology. Digital Wars is being published by Kogan Page on April 26, 2012.