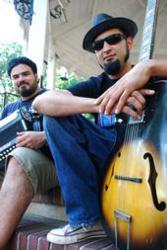 Santa Fe, NM (PRWEB) April 12, 2012
Visitors and locals alike are in for a musical treat from local restaurant Vanessie Santa Fe, a Featured Restaurant on SantaFe.com. Starting at 8 p.m. Saturday April 14, the high energy thumping and bumping riffs of Felix y Los Gatos come to the stage for an evening of some of the most unique music available in the Southwest. The creative genius of this band lies in the way they have merged multiple musical genres together, including rock, country, zydeco, New Mexican Rancheras, jazz and swing, into some of the most danceable music ever played. Over the last two years the band has played a mind-blowing 500-plus gigs all over the Southwest. The group recently released a new CD "Zydeco Tonight" to favorable reviews. In Santa Fe, the band has played live on Hutton Broadcasting radio stations KBAC 98.1 and KSFR 90.7 fm. They are also being played daily on KANW 89.1fm. The summer of 2012 is set to be a very busy one for the band, with live gigs in San Diego, CA, Austin, TX and Telluride, CO.
About Vanessie Santa Fe
Vanessie Santa Fe offers locals and visitors a piano bar that seats more than 150 guests for cocktail receptions, parties and nightly entertainment; a dining area that seats 100 guests for private parties, wedding receptions, rehearsal dinners, business dinners and regular dining; and a lodge with 20 rooms offering both traditional Santa Fe style and contemporary style rooms with first-class amenities and comfort. Vanessie Santa Fe is owned by native Oklahoma dentist and entrepreneur Ron Bulard and is located at 427 W. Water St., Santa Fe, New Mexico.
Contact Information:
Hideko Amasaki - General Manager
Vanessie Santa Fe
http://www.vanessiesantafe.com
(505) 982-9966 (Media Inquiries only, please)
About SantaFe.com
SantaFe.com provides locals and visitors to Santa Fe alike the most current interactive platform for events, music, arts, business, dining and lifestyle. SantaFe.com is a division of Hutton Broadcasting, located at 2502 C. Camino Entrada, Santa Fe, NM 87507
Contact Information:
Scott Hutton
SantaFe.com / Hutton Broadcasting
http://www.santafe.com
(505) 471-1067 (Media inquiries only, please)