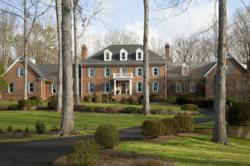 Time and time again we see luxury homeowners being failed by the traditional listing method," said Stacy Kirk Reich, Grand Estates Auction Company president. "Luxury homes do much better when marketed to the right clientele in a very direct way.
Charlotte, N.C. (PRWEB) April 13, 2012
Reverdy Estate, the magnificent in-town 8.7-acre Charlotte retreat featuring an elegant six-bedroom home and a historic log cabin on property will be sold via absolute auction by Grand Estates Auction Company on Tuesday, May 1, 2012. The owners turned to the experts at Grand Estate Auction Company because they wanted to sell the upscale-property quickly, and a traditional listing was not the solution.
Absolute auctions require no minimum bid or reserve price and are becoming increasingly popular with buyers and sellers of luxury real estate due to their timeliness and transparency. A team of experts prepares and markets the house for auction and can take a home that otherwise may sit on the market for years and sell it in 60 days at a fair market value.
"Time and time again we see luxury homeowners being failed by the traditional listing method," said Stacy Kirk Reich, president of Charlotte-based Grand Estates Auction Company. "Luxury homes such as Reverdy Estates do much better when marketed to the right clientele in a very direct way. We have continued to grow our business in what is considered a down real estate market, because we provide a great solution combined with a level of service that luxury property buyers and sellers have come to expect."
Although having no guaranteed minimum may seem risky, an absolute auction brings a pool of qualified, interested high net-worth buyers into a competitive auction where the home is sold to the highest bidder on a predetermined day. Sellers can be confident that they will receive the best price the market can bear without contingencies or lengthy negotiations. The true market value prevails.
For the buyer, there are many benefits. A comprehensive due-diligence packet is provided, and ample time is allotted for tours and inspections prior to the auction. Bidding is in an open arena where there is no competitive advantage granted to anyone and the highest bid prevails. Most importantly, the buyer knows the seller is committed to sell the property and timelines for the purchase and closing are established.
Homes such as this typically do very well in absolute auctions. In fact, auction prices can at times exceed negotiated sales prices. However, competitive bidding ensures that the buyer is making a smart investment by purchasing at the true market value.
Situated on 8.7 acres, this one-of-a-kind estate features spectacular mature landscaping, an in-ground pool, tennis court, an expansive brick patio, greenhouse, workshop, and a historic two-story log cabin that has been restored and preserved. In addition, brick veneer retaining walls surround the main residence and provide additional privacy. The magnificent home features six bedrooms (including two master bedroom suites), six full and three half bathrooms, elegant formal living and dining rooms, a gourmet cook's kitchen, exercise room, sunroom, theater room, bar and entertainment area, billiard room, two laundry rooms, antique heart of pine flooring, wainscoting, custom millwork throughout, five fireplaces, garage parking for six cars and workshop, and a separate apartment or guest suite living quarters.
The auction will start promptly at 2:00 p.m. on Tuesday, May 1st. Provisions for remote bidding can be arranged. The property will be available for prospective bidders to preview beginning Friday, April 27th at 11:00 a.m., with preview times daily through the date of the auction. A $50,000.00 certified check or personal check along with a bank letter of guarantee will be required to register to bid on the property.
Grand Estates Auction Company is the leader in the niche market of auctioning luxury real estate, specializing in properties ranging from $1.5 million to $10 million.  Established in 1999, the family-owned company was the first of its kind.  The company is based in Charlotte, N.C. with offices in Atlanta, Dallas, Vail, Co., La Jolla, Ca., and Naples, Fla.  For more information visit http://www.GrandEstatesAuction.com.