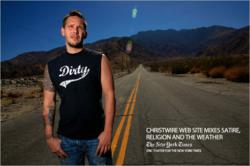 La Quinta, CA (PRWEB) April 12, 2012
Famous for his nationally successful website, Christwire.org, Bryan Butvidas has decided to branch off and write a story that has been in his head since he was ten years old, Airith. Instead of causing chaos and confusion amongst news outlets and movie stars, Bryan tones down his satirical tendencies and brings us a fast paced story about two lovers who fight to keep each other alive in a sci-fi fantasy setting.
The book description is as follows, "The only hope for the world's safety is two lovers that share a connection greater than love itself. Two assassins, Rapha and Airith, sent to kill one another decided to follow their hearts instead and send the world into a global war. They learn that within them they both carry half of a classified technology. The mechanism is implanted within their hearts and without the other's piece, they will die. Fighting to their way to find a solution to keep each other alive, they discover all they need is each other. But in the end one will still give their life to save the other."
One of the interesting aspects of the book release was that 98% of sales have been from Kindle and Nook, thus demonstrating the high demand for the new digital delivery avenue.
Bryan Butvidas
http://www.airith.com/buy-book
760-541-9743
AirithAuthor(at)gmail(dot)com
"I Support The H.O.M.E. Foundation"
About The H.O.M.E. Foundation:
The Helping Others Means Everything, or The H.O.M.E. Foundation, is a not-for-profit organization dedicated to helping our Family of Charities. Frank Verdugo, President of The HOME Foundation, wants to help as many worthy charities as possible as they struggle during these tough economic times. Frank Verdugo helps raise funds through luxury dream home raffles, home giveaways, prizes, and high profile celebrity events in Hollywood... "Our mission is to help charities reach their fundraising goals and to bring awareness to their praiseworthy causes." Please visit our 2012 Dream Home Raffle Giveaway at: http://www.HOMEFoundationRaffle.com and http://www.facebook.com/HOMEFoundationRaffle.