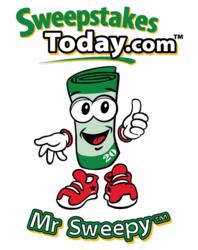 (PRWEB) April 13, 2012
Peggy McGhehey of Kansas City, MO won big on SweepstakesToday.com (http://www.SweepstakesToday.com) when Anheuser-Busch awarded in their Bring A Bud Home Sweepstakes, her a cash prize for herself plus a fully paid round trip home for a military person of her choice.
"She didn't know an active military service member," Craig McDaniel, Founder of the online sweepstakes site said in an interview today, "so she turned to our Mr. Sweepy's Sweepstakes Forum where she discovered Army Specialist Brian Aguridakis, husband of a forum member, would make an ideal candidate for the free trip home."
"Brian's dad passed away very suddenly over a year and half ago," Holly Aguridakis said. "His mother asks all the time for him to come home but we just can't afford the airfare. This will provide a means to surprise her this summer!"
Holly had entered the same sweepstakes hoping she could bring her husband home. "Although she didn't win the contest," McDaniel commented, "her participation in the forum meant she, her husband and Peggy were able to connect. That's not the first time I've watched the forum work to support a member in need. In other words, everyone won."
SweepstakesToday.com was launched in 2004 to take advantage of the internet according to McDaniel. It rapidly became one of the premier (online sweepstakes) sites. Membership in the site is free and includes both access to sweepstakes and an active membership forum. The website is supported from advertisement by many well-known named companies, sponsors and ad agencies.