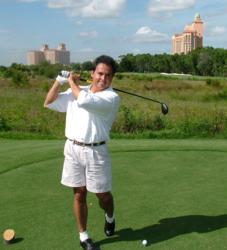 Golf Photography is important to capture the moment and build relationships in the meeting industry.
Miami, FL (PRWEB) April 12, 2012
Golf photography services for the corporate meeting and convention industry is a new service recently added by Professional Images Photography. Many conventions and meetings often have golf outings and need a professional photographer to cover the tournament and also provide a photo for each group. Branding a product or company at golf tournaments during conventions and meetings is an important marketing tool for creating solid customer relationships.
Onsite printing photography and convention photography combined with golf photography at conventions, meetings or any corporate golf tournament is a perfect fit. A photographer from Professional Images Photography is ready to start taking photos at the beginning of the tournament. Once all photos of each group is taken, the staff photographer goes back to the club house and prints all the photos onsite using the latest in digital print technology. The photos are placed in custom folders and also if the client chooses, the logo and text can be place right on the print. The photos are then displayed for the golfers when they arrive back to the clubhouse.
Digital photography and onsite printing photography is not new to the meeting industry but innovative thinking by Professional Images Photography is what sets this company apart. Thinking outside the box and always reaching for better ways to service the convention photography and onsite printing photography industry will keep Joseph Rodriguez the leader and innovator of new photography products and services.
Professional Images Photography and onsite printing with social media is another refreshing addition to convention photography service. Joseph said that the impact of this new service has created another market and with already many inquires 2012 is looking really good.
About Us:
Professional Images Photography is a San Antonio, TX based company that provides Convention, Trade show, and Special Event Photography to the Exhibit and Convention Industry Nationwide.