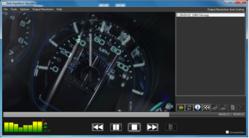 ArgoNavis decoder blade server as a highly effective, affordable, comprehensive... solution for use by broadcast, cable, IPTV/OTT, content distribution, VOD... in monitoring, verification and quality control of Closed Captions and other data
Tampa, Florida (PRWEB) April 12, 2012
Vela Research® announced the increasingly widespread adoption and use of its ArgoNavis decoder blade server as a highly effective, affordable, comprehensive and high quality solution for use by broadcast, cable, IPTV/OTT, content distribution, VOD and related operators in monitoring, verification and quality control of Closed Captioning, VANC data and other metadata information.
Vela's ArgoNavis decoder system is a self-contained, compact, low-noise 1.5 RU solution that is entirely plug-and-play. Operators find it to be easy to integrate into their existing work flows, and to get it operational in a very short period of time, and with the minimum of effort. The ArgoNavis decoding system is capable of decoding Standard and High Definition MPEG-2 content in both 4:2:0 and 4:2:2 profiles. The system also can decode MPEG-4 Part 10 or H.264, as well as VC-1, Apple ProRes and MPEG-4 Part 2 video content – all at a wide range of bit rates, frame rates and resolutions. The Closed Captioning Viewer module enables operators to view Closed Captions contained in a source video file, both 608 and 708 CC data. It also enables users to quickly and conveniently scan through the Closed Captioning information, in order to flag any errors, as well as to verify frame alignment and to extract and dump decoded captions and other user data to a separate file for debug or archival/audit purposes.
The comprehensive feature list of the ArgoNavis decoder system includes these and a wide array of other features required in the most demanding user environments today:

Multi Format Decoding (AVC, MPEG-2, MXF, AVI, QuickTime, ProRes, DV)
HD/SD SDI, HDMI, Analog video and audio outputs
HD/SD 4:2:0 and 4:2:2 decode support
Closed Caption support EIA-708B and 608B
Closed Caption parser and viewer and overlay onto video output
SDI embedded audio support
Dolby® Digital bitstream pass-through audio
Many Audio formats including MPEG, PCM, AAC, etc.
Intuitive, easy to use web based graphical user interface
Graphics overlay including Title and Action Safe Area, Timecode, Frame Count, CC
LKFS Loudness measurements (Optional)
Faster than real-time LKFS loudness measurements on files (Optional)
Ability to correct LKFS loudness levels on files (Optional)
Mike Reddy, President & CEO of Vela said, "designed with the demanding and complex requirements of Quality Control specifically in mind, this cost-effective solution comes with all of the bells and whistles necessary for a rigorous QC environment with an intuitive, user-friendly GUI that enables rapid and easy familiarization, adoption and deployment by an operator."
Kevin Grubbs, Vela's Director of Engineering, said "ArgoNavis HD decoder supports features necessary for QC including Closed Captioning and VANC data decode and display, graphics overlay of key data like Title and Action Safe Areas, Timecodes, and Frame Counts. The ArgoNavis comes not only with HD/SD SDI outputs, but also with HDMI and Analog video outputs eliminating the large investments necessary in broadcast HD SDI monitors."
Users in the broadcast, cable, OTT, content distribution, VOD, post-production, education and digital signage fields interested in further information or in test-driving ArgoNavis decoder blade system are invited to contact Kevin McDowell at 954-558-2063 (kmcdowell(at)vela(dot)com).
About Vela: Vela® is an Emmy® award winning company offering a complete range of high quality standard- and high-definition products for the broadcast, cable, OTT, VOD, post production, enterprise, and education markets. Vela designs and manufactures system and board level solutions used in a variety of MPEG-2, H.264, VC1 and Apple ProRes applications. Over the past 18 years, Vela has earned recognition by virtue of the trouble-free, high-performance and cost-effective solutions in use in demanding customer environments worldwide. Vela is based in Clearwater, Fla., USA, and on the web at http://www.vela.com.