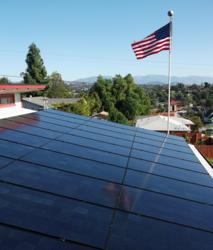 In 1954, the United States invented solar power. In the year 2000, SunPower perfected it.
San Diego, CA (PRWEB) April 12, 2012
Sullivan Solar Power, the leading residential developer of solar power systems in the nation's solar capitol, San Diego, has been ranked as the number one SunPower dealer in the region. According to public records furnished by the California Solar Initiative (CSI), Sullivan has developed 44 percent more residential solar power systems than their nearest competitor. SunPower, headquartered in California, is a global leader in the solar industry with the world's most efficient silicon solar cells.
"In 1954, the United States invented solar power. In the year 2000, SunPower perfected it," said Daniel Sullivan, founder and president of Sullivan Solar Power, "We are proud to be part of this heritage in moving our nation toward a sustainable future."
According to CSI data, SunPower is the leading panel manufacturer for residential projects in California, trumping imported cheaper Chinese solar modules. Despite the lower commodity costs of Chinese panels, SunPower reigns supreme in California due to an aggressive new leasing program. The program offers California homeowners solar at a cost that is up to 40 percent less than their electric utility bills.
"With SunPower financing, people can go solar for less than what they are paying now, they can use American products, and help the environment," says Sullivan, "Once again, American ingenuity trumps cheap imported goods."
Solar technology has been a bright spot in an otherwise economy. Last year alone, the solar industry grew by 69 percent, making it the fastest growing industry in the United States. SunPower employs more American workers than any other solar manufacturer in the world and a key part of Sullivan Solar Power's business model is supporting the local and national economy.
"As SunPower's top residential installer, we look forward to helping this region declare energy independence from imported foreign fossil fuels and supporting domestically developed and manufactured technology," said Sullivan.
Additional information can be found by visiting SullivanSolarPower.com or by calling 1-800-SULLIVAN.
About Sullivan Solar Power
Sullivan Solar Power is headquartered out of San Diego, CA and owned and operated by Daniel Sullivan. Sullivan Solar Power is a turnkey solar system provider that services all of Southern California and delivers projects from concept to completion. The company has installed over 9,000,000 watts of solar power ranging from small-scale residential to large-scale commercial and municipal systems. According to California Solar Initiative data, Sullivan Solar Power has installed more residential solar power systems than any other company in San Diego County. Regardless of project size and scope, Sullivan is committed to delivering the best products and the most qualified professionals to its customers. Visit http://www.sullivansolarpower.com for more information.
###