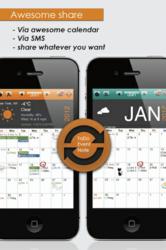 (PRWEB) April 12, 2012
The Yunasoft-developed multi functional utility app, Awesome Calendar, has found its way to the iTunes App Store and is already impressing new users. With a beautifully integrated calendar, to-do list, and notepad, Awesome Calendar offers schedule-savvy iOS devotees a stylish new way to up their productivity levels.
Awesome Calendar's trio of time management tools work together flawlessly and each impresses in its own uniquely fun and functional way. The notepad mode makes keeping detailed information at hand—right down to easily embedded images—incredibly convenient. Linking that info to a particular date and sharing it wirelessly with interested parties is also a snap. The to-do list mode is just as elegantly interactive, tracking the completed percentage of each particular list automatically, and showing that percentage in the detailed calendar view. The calendar mode keeps users in tune with the big picture, making it simple to enter and update events. Special tasks are made recognizable at a glance when the virtual sticker feature is utilized. And the simple calendar sync function makes harmonizing multiple calendars effortless. Users can sync Awesome Calendar with their online calendar (Google Calendar sync is supported), and conveniently track a school calendar, work schedule, social planner and with this all-in-one tool.
To make it even easier for users to sync their own plans with the big picture, Awesome Calendar includes a number of extras intent on streamlining schedules and removing conflicts. A multi-national holiday calendar database lets users choose from 35 different countries to account for special days. A lunar calendar overlay is also available. Anyone who has unintentionally scheduled an important event only to find no one can make it knows the importance of a calendar with holidays prominently displayed. A four-day weather forecast, also featuring current conditions, is featured as well. And for those who find protecting their privacy of special importance, the optional password lock is a must-have.
With its clean, user-friendly interface, powerful functionality, and bright, fun attitude, Awesome Calendar is a boon to users juggling complex schedules. It's available now in the iTunes App Store, for only $2.99.
iTunes: http://itunes.apple.com/us/app/awesome-calendar-+google-task/id480102733?mt=8
Free: http://itunes.apple.com/us/app/awesome-calendar-lite-+google/id484829437?mt=8