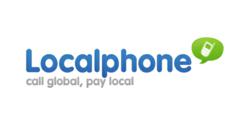 We hope our customers enjoy the free calls and I would like to take this opportunity to wish them a Happy Easter
Sheffield, UK (PRWEB) April 12, 2012
From 12 p.m. (noon) GMT Thursday 12th April until 12 p.m. (noon) GMT Thursday 19th April, Localphone customers can make unlimited free calls to landlines in Cyprus. There are no restrictions on how long customers can talk for or how many calls they make, as long as they call within the promotional period then they won't be charged. Calls can be made from a mobile phone, landline or a computer.
For users who aren't yet a Localphone customer they can still take advantage of the free calls by taking a minute to create a free account at Localphone.com and then they'll be able to start calling. New users can also sign up through their smartphone by downloading the free iPhone or Android app.
After the free calls to Cyprus offer ends calls will be charged at the normal cheap rate from 0.4p GBP/ 0.7c EUR or 1¢ USD per minute. Localphone CEO and founder, Paul Cusack, commented, 'During the holidays we know our customers want to keep in touch with friends and family more than ever, so we're giving away free calls to landlines in Cyprus in time for the Orthodox Easter celebrations. We hope our customers enjoy the free calls and I would like to take this opportunity to wish them a Happy Easter.' Find out how to make free calls to Cyprus at http://www.localphone.com/call/cyprus.
Localphone was recently awarded Highly Commended for the Best Consumer VoIP in the ITSPA Awards 2012. Founded in 2007 in Sheffield, United Kingdom it has quickly expanded its global customer base and is now one of the world's leading providers of cheap international calls.
If you would like more information about this topic, or to schedule an interview, please call the press room at +44(0) 114 3190538 or you can email press(at)localphone(dot)com