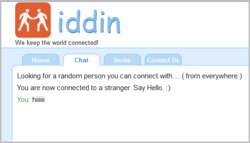 Dallas, TX (PRWEB) April 12, 2012
Many people prefer speed dating because of the thrill that it can bring. In fact, stable relationships bloomed with the help of speed dating programs. Now, online speed dating is possible through an application known as Iddin Live. This application utilizes the means of web chat, and improves the way a person connects to the world.
Iddin Live is gradually making a name in the niche of random chatting. There are many applications that specialize in random chat out there, however they have lesser connection rate compared to Iddin. Iddin's developers have realized that random chatting will bloom in just few years, so they improved the Iddin chatroom to accommodate more chatters. It has been estimated that Iddin has over one hundred thousand users daily.
How can a random IM chat application become a medium for speed dating craze? The formula is relatively simple. Because there is no need to give up personal information, knowing the stranger is more challenging. Users have to crack the best jokes or say the right words in order to maintain a stable conversation. Privacy filter is still the choice of the chatters though. They can still upload their pictures and share their information through the chat.
Using Iddin is also easy, compared to other applications with complicated steps. To use Iddin, the chatter must select from three important options. He can specify any country he likes. He can also go for chatters in the US. The Iddin application can even reach the entire world through the 'Anybody' option. This is possible in under few seconds.
Thrill-seekers chat online with Iddin because they believe that it is serving the purpose of real-time chat. Strangers disconnecting quickly may never be avoided, but every connection is a new start. This makes chatting more fun and spontaneous.
About Iddin
Iddin is a free web application that specializes in generating random chats with strangers. Users can choose the locations of the strangers, or they can have the engine to search the whole world. Random chat is encouraged to protect the identity of people and also to empower spontaneous connection that is fun and interesting. Users can visit http://www.iddin.com to discover its features.