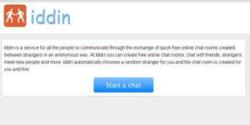 Dallas, TX (PRWEB) April 12, 2012
Looking for friends online has never been easier with the help of IM chat engines. These applications can connect at a quicker pace, and they offer many options to spice up a person's chatting experience. When it comes to random chat, Iddin Live evens out the playing ground. It is faster and has speedy connection, encouraging spontaneous chat anytime.
Iddin may be new in the industry, but it is already raking many followers. Its developers are constantly working round the clock to ensure that the best service is being provided. Iddin is all about "random chat with a higher rate of connectivity." This removes the racial gaps that have blinded many people and affected the way they communicate with the world.
Friend seekers may find the niche of random web chat challenging. This is because of the fact that not everyone can win friends through random chat. It takes skill for a stranger to urge another stranger to stay longer in a conversation. By typing the right words, the stranger may or may not have the chance to win a new friend. This spontaneity appealed to a lot of people.
Using Iddin is also easier than what others might expect. Anyone can connect to a random chat instantly. A user can also filter where the stranger will come from. He can choose the country, or go for someone in the US. The Iddin App can even go for the 'Anybody' option. This is a faster option where the application will zero in to the nearest stranger that it can find. Out of the thousands of daily Iddin users, the possibilities are endless.
People definitely love to chat online with a hint of thrill and privacy protection. Iddin Live keeps up to these promises, in order to deliver a new and better random chat experience.
About Iddin
Iddin is a free web application that specializes in generating random chat with strangers. Users can choose the locations of the strangers, or they can have the engine to search the whole world. Random chats is encouraged to protect the identity of people and also to empower spontaneous connection that is fun and interesting. Users can visit http://www.iddin.com to discover its features.