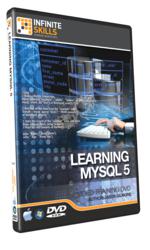 Learn MYSQL 5 Quickly and Easily
(PRWEB) April 12, 2012
Technology training firm InfiniteSkills Inc. has released a MySQL 5 Tutorial Video series targeted for beginners. Designed as an entry-point for both MySQL and relational database systems in general, the Learning MySQL 5 Tutorial teaches essential elements of the MySQL system by guiding users through the construction of their first database.
MySQL is the world's most-used relational database management system. Working as a server, it can provide multi-user access across multiple databases, and its rich feature set integrates seamlessly with many popular development frameworks. MySQL provides the data management system for many open-source web projects such as WordPress, Typo3, and Drupal, and the system includes several paid editions for enterprise applications.
The new Learning MySQL 5 Training Video Tutorial teaches the basics of MySQL structures, functionality, and management. The course follows InfiniteSkills' signature task-oriented training method which focuses on providing users with meaningful hands-on experience with the system. This approach allows beginners to learn a broad range of skills as they perform critical MySQL functions, and allows the videos to serve as a quick reference for continued use.
Learning MySQL 5 Tutorial Video on DVD
"The Learning MySQL 5 Tutorial is a powerful tool for anyone who wants to create functional, flexible databases," says InfiniteSkills content manager Chris Johns, adding that the tutorial will allow database managers moving from systems like Microsoft Access or Filemaker to access the greater degree of control and flexibility offered by the MySQL system.
Trainer Jason Gilmore, an author and expert in the field of relational database systems management, introduces the basics of relational databases and explores how these data systems play a crucial role in web-user experience. He covers such important concepts as string and temporal functions, numerical data types, primary and foreign keys, and functions and queries.
Users of the Learning MySQL 5 Training Video - Tutorial will be guided through all the steps of building their first relational database, including a guide for installing and setting up MySQL on Windows and Mac systems. The tutorial then covers the basics of using MySQL to create, retrieve, update and delete data. Gilmore also demonstrates how MySQL capabilities can be harnessed for specific business or software development solutions, and offers chapters on database management and security.
InfinteSkills offers its Learning MySQL 5 Video Training either as a DVD-ROM or a direct download from the company website. Available at a retail price of $99.95, all titles and formats are compatible with both Mac and Windows. Shipping and purchase options are available worldwide.
Free demo videos and a full list of course contents can be found on the MySQL 5 training page on the company website:
Learning MySQL 5 Tutorial Video on DVD
About InfiniteSkills Inc.
A leader in the field of technology training, InfiniteSkills offers an innovative, experience-based model for teaching complex technology concepts. The company offers a diverse range of tutorials as DVDs, digital downloads, and in iPad editions, keeping with the company's aim of delivering professional training to customers anywhere they want to learn.